Holiday Market to bring local food, crafts to Maple Street this Saturday, 10am-2pm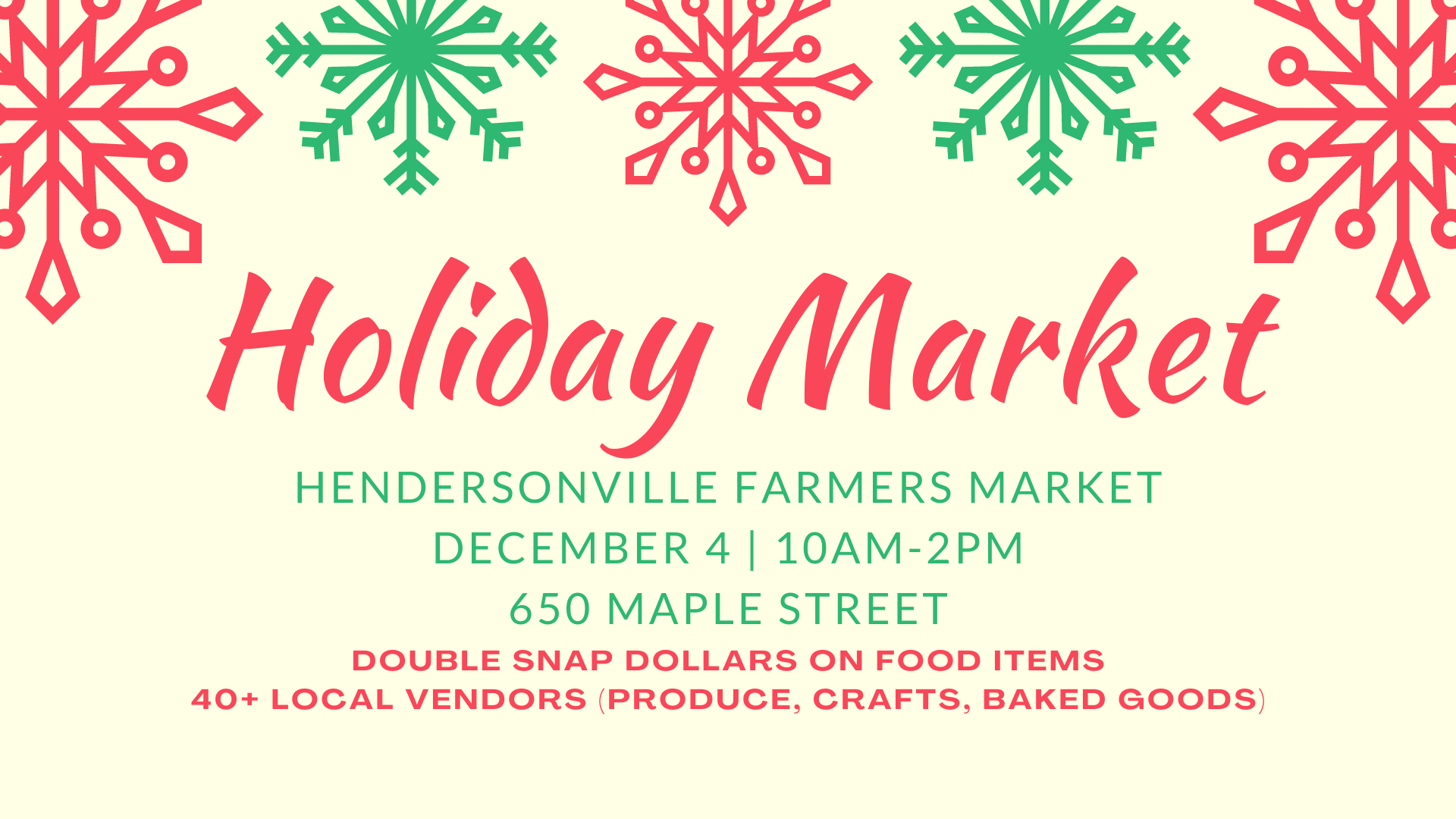 The last chance to shop local this year at Hendersonville Farmers Market is this Saturday from 10 a.m. until 2 p.m. The festive Holiday Market will feature about 40 vendors selling farm-fresh products, baked goods and handmade artisan crafts. (see vendor list below)
Marketgoers will find their favorite regular vendors from Hendersonville Farmers Market offering seasonal items in addition to a plethora of unique gifts and festive holiday decor. SNAP/EBT users can double their dollars on eligible food items.
Live bluegrass music will be provided by the Byrd Family, and a free kid's activity will be provided by the Arts Council of Henderson County.
A selection of hot food and beverages will be available for purchase from Feta Flav Food Truck, Underground Baking Co.'s Bretzel Bus, Sophia's Tamales, and Sharewell Coffee Co.
Hosted by Hendersonville Farmers Market, this event is the second of two Holiday Markets that will close out the 2021 market season. The opening date for the 2022 market is tentatively scheduled for May 7.
For more information, contact Market Manager Meredith Friedheim at mfriedheim@hvlnc.gov or 828-233-3205 or visit hendersonvillefarmersmarket.com. New vendors are not currently being accepted.
DECEMBER 4 VENDOR LIST:
Live Music: The Byrd Family
Kid's Corner: Free activity with the Arts Council of Henderson County
Food Truck: Feta Flav in addition to Bretzel Bus as well as tamales from Sophia's
Farmers & Growers (produce, eggs, meat, honey): Barry Farms, Black Dog Flowers, Bright Branch Farms, Broom's Blooms, Encompass Farm, Gray Family Farmstead, Hillside Farm, Honeybee Bliss, Popp's Posies at The Popp Shoppe, Tiny Bridge Farm
Prepared Food/Drink Vendors (baked goods, fermented foods, value added products): A Piece of Maine, Asheville Pretzel Co, Chef Squared Co., DARE Vegan Cheese, Homemade Pasta Noodles, Mimi's Mountain Mixes, Raspberry Fields, Sea of Sweets Bakery, Serotonin Ferments, ShareWell Coffee Co. & Roastery, Sweet Brine'd, Underground Baking Co.
Arts & Crafts (nonfood/nonplant): BeeHaven Gardens, Handwoven Baskets by Mike Blake, Happy Toad Pottery, Kathy's Pottery, KickAshe, Mother Hubbard Crafts, Mountain Barkery, Paper Clutz Co, Parish Members of St. Anthony the Great, Plated Bliss, Sister Soaps and Brother Bars, Sophia's Boutique, Two Chicks Pottery, Whimsical Whatnots, The Wild Ginkgo