Hendersonville Fire Department Promotes Captain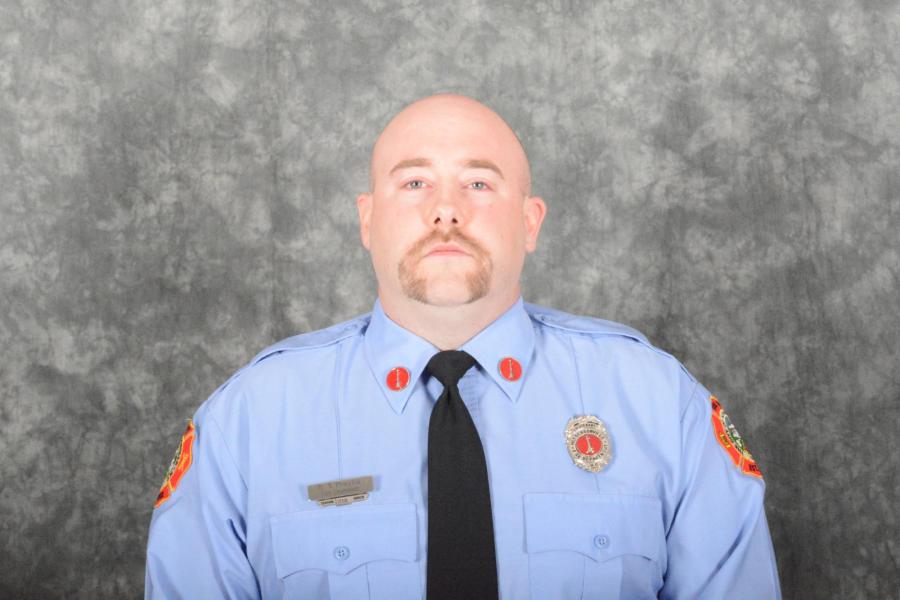 The Hendersonville Fire Department is proud to announce the promotion of Billy Ray Praytor to the rank of Captain. Captain Praytor previously held the position of Lieutenant on Tower 9 and will continue to lead A-Shift on the ladder truck.
"Billy Ray Praytor is a great example of someone who cares about the community and continually works to improve the service we provide Hendersonville residents and business owners," said Hendersonville Fire Chief D. James Miller. "His promotion to Captain marks a culmination of his knowledge, experience, leadership ability, and commitment to serving others."
Captain Praytor joined the Hendersonville Fire Department in 2013 and has served as a Firefighter/EMT, Fire Engineer, and Fire Lieutenant. He has an Associate Degree in Fire Protection Technology in addition to other certifications including Firefighter Level II, Advanced EMT, HazMat Operations, Child Passenger Safety Seat Technician, Driver Operator Pumps, Driver Operator Aerials, Fire Instructor Level I and II, Fire Officer II, and Fire Inspector Level I.
"One of the best parts of being in the fire service is no shift is the same," said Captain Praytor. "When I began my time in the fire service, I knew Hendersonville Fire Department was the place I wanted to spend my career. All the training and experiences before Hendersonville helped build a strong foundation for my future."
In addition to his service to the Hendersonville community, Captain Praytor works part-time for Mills River Fire & Rescue, with many years of prior volunteer and paid experience with Etowah Horse Shoe Fire & Rescue, Fletcher Fire & Rescue, and Mills River Fire & Rescue.
Outside of his commitment to the fire service, Billy Ray spends as much time with his family as possible. He and his wife have been together since the eighth grade and have two children together.
"I try and spend as much time with my family as I can," said Praytor. "My son is a teenager, and my daughter is not far from it. I am trying to squeeze in as much time as I can while they still want to hang out with Dad."
When asked what he is passionate about in the fire service, Captain Praytor highlights the importance of firefighter safety.
"In recent years the push for firefighter mental health and cancer awareness has been at the forefront of the fire service," said Praytor. "HFD did not take a backseat to the issues. We have made policy changes and have encouraged and assisted members in making sure their physical and mental health is taken care of."