Hendersonville Farmers Market Opening Day!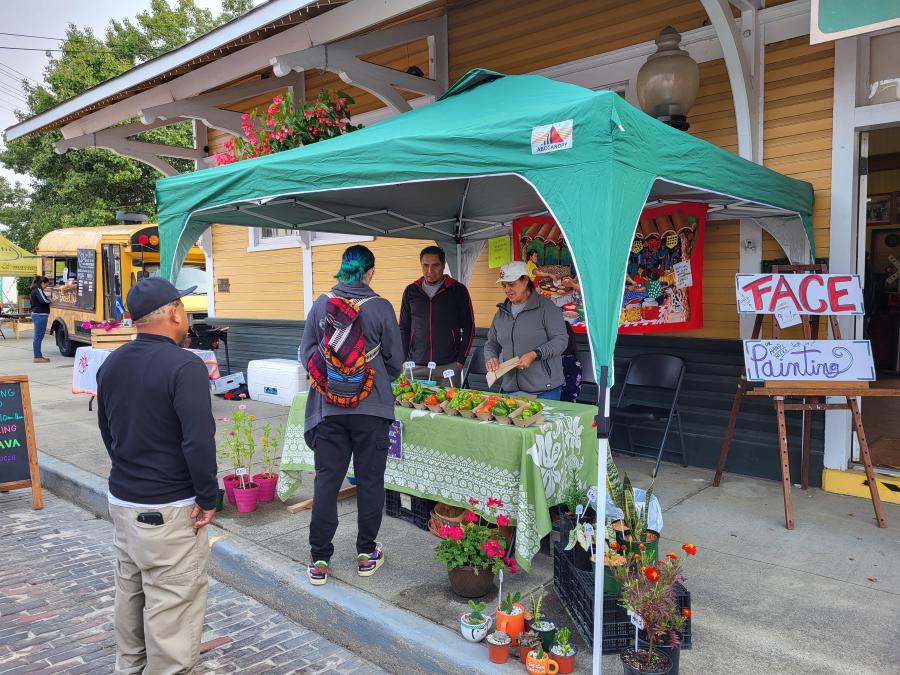 Hendersonville Farmers Market to Open May 6 with 45 Local Vendors
HENDERSONVILLE, NC – Hendersonville Farmers Market will start its third season on May 6 at the Historic Train Depot on Maple Street. Approximately 45 vendors are prepared to sell local food products including eggs, herbs, produce, plants, baked goods, coffee, meat, honey and more.
Hendersonville Farmers Market is not only a great place to purchase local produce and goods, but also a destination to enjoy the day with family and friends! In addition to dozens of local producers and entrepreneurs, the lively atmosphere of Opening Day will be enhanced with music performances from Fiddlin' Ryn & Friends, as well as the activities in the Kids' Corner. Free 20-minute yoga classes will be offered for kids by Yoga and Massage at 10 and 10:30 a.m. The market will also feature a cooking demo from Launa Tierney of Homemade Pasta Noodles.
Hendersonville Farmers Market will take place each Saturday, 8 a.m. until 1 p.m., at the Historic Train Depot on Maple Street from May through October, with two holiday markets slated for November 18 and December 2 (9 a.m. until 1 p.m.). Well-behaved dogs are welcome. On and off-street parking can be found surrounding the market in almost all directions.
Would you like to receive the Hendersonville Farmers Market vendor list in your email inbox each week, along with general updates from the Friends of Downtown Hendersonville? Email info@downtownhendersonville.org to join the e-newsletter.
Most of the 2023 regular vendors will be familiar faces to frequent shoppers, although there will be some changes and new faces! This season we have a new fish vendor, Trout 66 will be at the market every Saturday to supply you with fresh trout straight from their farm. Stump Farm will also be joining the market with natural, affordable, accessible and a sustainable alternative for everyday foods and products. For those of our customers with a sweet tooth, Conjure Craft Chocolates will be selling bean to bar chocolate roasted and ground in the foothills of the Smoky Mountains.
How to Shop:
All vendors accept cash, and some have their own card readers for debit/credit. For customers who don't have cash, tokens can be purchased to shop with vendors who don't have a card reader. Shoppers can purchase tokens using a debit/credit card at the market information booths located near either end of the market. All vendors accept tokens purchased by debit/credit card.
Double Your SNAP/EBT Dollars:
Hendersonville Farmers Market is a SNAP/EBT retailer and will match dollar-for-dollar any SNAP/EBT spending at the market. SNAP/EBT shoppers can swipe their EBT card at the information booth to retrieve tokens. The tokens can then be used as cash with individual vendors for eligible items. This program is generously supported by our Farmers Market Sponsors, Friends of the Market, and Mountain Wise Double Up Food Bucks. The idea behind doubling SNAP dollars at farmers markets is that the incentives will attract more low-income shoppers and make their grocery dollars stretch further while simultaneously boosting local farmers' income.
Become a Friend of the Market:
Voice your support for our market's Double SNAP program as an individual or as a family. These contributions of $75 or more make it possible for low-income community members to buy fresh, local food from our market. In return for your donation, you will receive a super awesome market merchandise item! Find out more at hendersonvillefarmersmarket.com.
Hendersonville Farmers Market is operated by the Friends of Downtown Hendersonville, a 501c3 nonprofit wing of the City of Hendersonville's Community Development Department. For more information, visit hendersonvillefarmersmarket.com. Hendersonville Farmers Market is presented by Pardee UNC Health Care. Additional support is provided by our generous sponsors: Wag! A Unique Pet Boutique, Laura Flores NextHome, Underground Baking Co., Duke Energy, Hendersonville Community Coop, AgSouth Farm Credit, Caroline Ericksen Real Estate, Printville, and Discover Hometown Magazine.
Contact: Dakota Parker, Farmers Market Manager
828-233-3216