Hendersonville Farmers Market Celebrates Hispanic Heritage Month on September 16th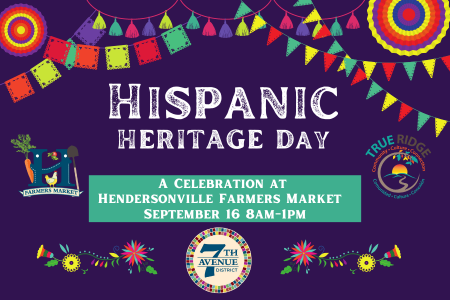 Hendersonville Farmers Market Celebrates Hispanic Heritage Month on September 16th
HENDERSONVILLE, NC (Sep 12, 2023) – The Hendersonville Farmers Market will host Hispanic Heritage Day on September 16th, 2023, from 8:00 AM to 1:00 PM. This vibrant event will showcase the rich cultural tapestry of the Hispanic community, offering a special market filled with food, music, and cultural activities. In addition to what you'll find every week at the Hendersonville Farmers Market, this week's event will feature:
Culinary Delights: Stop by the cooking demo with the North Carolina Cooperative Extension from 10am to 11am making fresh Elote (Mexican Street Corn), Mexican Bread and Hot Chocolate thanks to True Ridge, and stop by market vendor Sophia's Boutique selling homemade fresh Tamales all day.
Dancing, activities and more with True Ridge: True Ridge will be showcasing traditional dance styles, as well as a children's activities to learn more about our local Hispanic culture and community.
Community Engagement: Connect with local Hispanic community Vendors and Organizations to learn about their initiatives, services, and how you can get involved in celebrating and supporting Hispanic culture year-round.
Access to Fresh, Local Food: With support from MountainWise and market sponsors, Hendersonville Farmers Market doubles dollar amounts purchased on SNAP/EBT eligible products, making fresh local food accessible to our entire community. New this year, HFM also supports the Seniors Farmers Market Nutritional Program with vendors eligible to take designated coupons for the program.
Hispanic Heritage Day partner, True Ridge works to connect members of the Hispanic community with the resources and opportunities to help them grow personally, professionally, and spiritually. By offering our services as bilingual, culturally connected advocates, True Ridge encourages and uplifts this underserved and often overlooked community. For more information, visit trueridge.org.
Hendersonville Farmers Market is presented by Pardee UNC Health Care. Additional season sponsors include Wag! A Unique Pet Boutique, Next Home, Duke Energy, Caroline Ericksen Real Estate, Underground Bakery, Hendersonville Community Co-op, and AgSouth Farm Credit.
The Hendersonville Farmers Market is coordinated and managed by the Friends of Downtown Hendersonville 501c3 nonprofit organization focused on improving Downtown Hendersonville's Main Street and 7th Avenue Districts. For more information, visit hendersonvillefarmersmarket.com.