Fireside Collective Headlines August 17 Rhythm & Brews Concert Series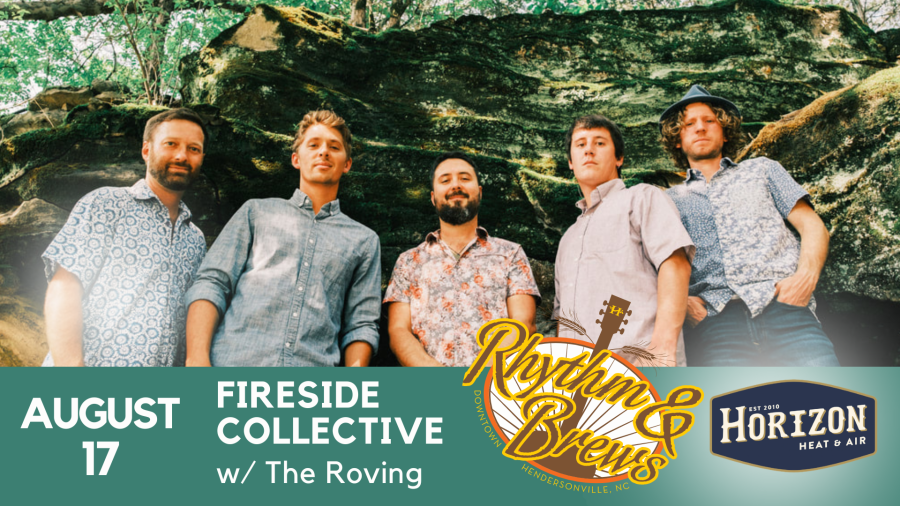 Fireside Collective Headlines August 17 Rhythm & Brews Concert Series
HENDERSONVILLE, NC, August 11, 2023 – Listen to the sounds of progressive bluegrass at its finest at Rhythm & Brews, presented by Horizon Heating & Air. Join the fun on Thursday, August 17 on South Main Street with a lineup that can't be beat. We are excited to announce that Fireside Collective will take center stage, with The Roving opening the show.
On the third Thursday, May through September, these free outdoor shows will ramp up downtown fun, complete with craft beverages, food trucks and kids' activities. Also contributing to the presentation of this concert series are Norm's Minit Mart, Yoga and Massage, B Squared Realty, Optimum, Van Winkle Law Firm, and BGW CPA. Rhythm & Brews and the Friends of Downtown Hendersonville have also received generous support from the Henderson County Tourism Development Authority.
As the premier live music series of Hendersonville, Rhythm & Brews brings in a variety of established acts as well as up-and-coming artists from around the nation. Whether you love soul, rock, bluegrass or the funky stuff, Rhythm & Brews will put a smile on your face and broaden your musical horizons.
Headliner Fireside Collective is a quintet who cheerfully disregard every kind of one-dimensional label that might be attached to their music. Fireside Collective has been on a roll since emerging seven years ago from the fertile roots music scene of Asheville, North Carolina. In quick order, the progressive bluegrass group released its debut album, won the 2016 Band Contest at MerleFest, earned an International Bluegrass Music Association Momentum Band of the Year nomination and embarked on an ambitious touring schedule that's earned an enthusiastic reception from traditional bluegrass to wide-ranging, eclectic music festival audiences alike. ​Blending the characteristic interplay of bluegrass instrumentation and harmonies with strong original material and exuberant energy, Fireside Collective has drawn on folk, blues, funk and a wide variety of bluegrass sounds to create a distinctive body of work that's all their own.
Opening Act: The Roving is a band from Western North Carolina that bridges the gap between the alt-country sounds and indie rock. Original songs written by band members Adam Herbst and Jenny Arch are reminiscent of the roots rock and americana genres with harmony driven vocals and instrumentation that spans from acoustic melodies to heavier electric grooves.
Opening acts will kick off each evening at 5:30 p.m. followed by the headliner performance from 7:30-9:30 p.m. Doors open at 5:15 p.m.
For the youngest in the family, the Hendersonville Honeycrisps & the Hendersonville Toy Company Kid Zone will provide kid-friendly fun, including hula-hooping and activities provided by Hands On! Children's Museum. Meanwhile, adults can enjoy downtown Hendersonville's first fully integrated beer and wine garden featuring locally crafted drinks from Sierra Nevada Brewing Co., Bold Rock Hard Cider, Guidon Brewing Co., Oklawaha Brewing Co., Dry Falls Brewery, Saint Paul Mountain Vineyards, and Flat Rock Cider Company.
All net proceeds from adult beverage sales will benefit the Friends of Downtown Hendersonville 501c3 nonprofit, whose mission is to identify, preserve and enhance the key factors that contribute to the authentic small town urban character of historic downtown Hendersonville. In recent years, the Friends of Downtown Hendersonville has supported downtown businesses with over $35,000 in direct business support through the façade and pivot grant programs.
Rhythm & Brews Concert Series was started in 2013 by Friends of Downtown Hendersonville, a 501c3 nonprofit operated by the Downtown Division of the City of Hendersonville Community Development Department. For more information, visit downtownhendersonville.org.