Fall Harvest (Oct 9) Vendor List at Hendersonville Farmers Market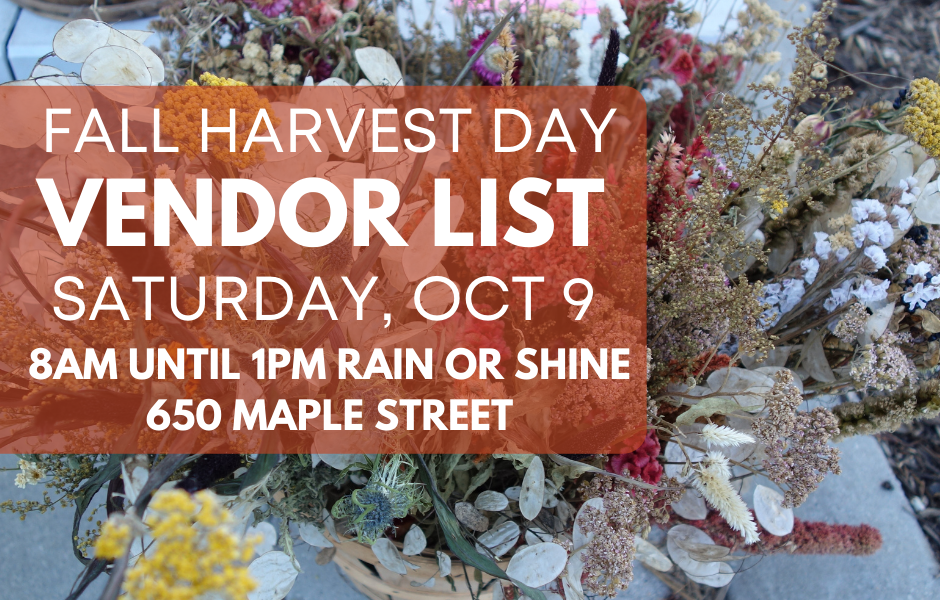 It's Fall Harvest Day at the market! Enjoy the best of what fall has to offer from more than 30 local vendors, including pumpkins, gourds, apples, honey, baked goods, flowers, crafts and more.
Take a photo at our fall display photo booth! Taste fall brews from Guidon Brewing Co. Try a hot apple or raspberry hand pie topped with whipped cream from Raspberry Fields. Grab a pumpkin spice coffee from Sharewell Coffee Co or fresh pressed apple cider from Bright Branch Farm!
Live Music: Apple Country String Band (at the Depot), and Moonshine Pie (Jam Tent)
Kid's Corner: Free face painting with Gail Dotson & Mystery Vegetable Game
Farmers & Growers (produce, eggs, meat, honey): Barry Farms, Bee-utiful Farm and Garden, Black Dog Flowers, Bright Branch Farms, Broom's Blooms, Colfax Creek Farm, Crow Holler Produce, Garden of Griffin, Hillside Farm, Honeybee Bliss, Mickey Lively Plants, Natural Foods, Popp's Posies at The Popp Shoppe, Sylvia's Plants, Tiny Bridge Farm
Prepared Food/Drink Vendors (baked goods, fermented foods, value added products): Asheville Pretzel Co, DARE Vegan Cheese, Deena's Bakery, Guidon Brewing Company, Raspberry Fields, Sea of Sweets Bakery, Serotonin Ferments, ShareWell Coffee Co. & Roastery, Simply Caught Seafood, Underground Baking Co.
Arts & Crafts (nonfood/nonplant): BeebearPro, Butterfly Flight, Handwoven Baskets by Michael Blake, Mountain Barkery, Mystery Ink, The Wild Ginkgo