Downtown Hendersonville Recognized for Economic Recovery Efforts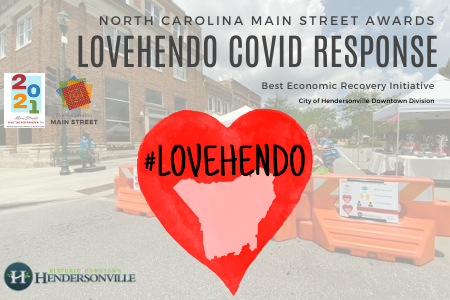 Downtown Hendersonville Recognized for Economic Recovery Efforts
Downtown Hendersonville among 9 communities recognized by North Carolina Department of Commerce
The City of Hendersonville's Downtown Division was recognized for its Covid-19 economic recovery efforts at the North Carolina Main Street Awards Ceremony on Wednesday, March 10. Liz Parham, Director of the North Carolina Main Street and Rural Planning Center presented the awards virtually in categories that include economic vitality, design, promotion and organization.
"We are delighted to honor these remarkable communities and their award-winning projects," said N.C. Department of Commerce Secretary Machelle Baker Sanders. "Not only did these projects create more jobs in rural communities, but they also sparked economic recovery and enhanced the historic and cultural assets of our state."
"The projects being recognized represent local capacity to develop public-private partnerships, leverage local assets, and create economic development initiatives," added Kenny Flowers, Assistant Secretary for Rural Economic Development. "North Carolina communities used public and private investment, historic tax credits, and Commerce's Main Street Solutions Fund and the Community Development Block Grant Neighborhood Revitalization dollars, to bring these projects to fruition."
Downtown Hendersonville was recognized as one of four communities in the new category "Best Economic Recovery Initiative" for their LoveHendo Covid-19 Response Plan. The response plan was an immediate shift in the downtown program's strategic work plan to focus on creativity, innovation, and support for local businesses. The City of Hendersonville's downtown division partnered with the Henderson County Chamber of Commerce and volunteers Will Holt and Justin Staebell to launch LoveHendo.com within days of the shutdowns nearly one year ago to date.
"Our team approached a very uncertain situation last year by taking a strategic and measured approach to tackling the needs of our downtown," said Lew Holloway, Community Development Director with the City of Hendersonville. "We started with immediate needs by creating the LoveHendo promotion and branding to support local businesses, then looked at creating a unique and safe experience for visitors through the Open Streets event."
Curbside parking signs were installed for downtown businesses to use, restaurants were able to expand outdoor dining, and the Open Streets concept took place several weekends during the summer. With a mixed reaction to Open Streets, it was reduced to once per month and rebranded as "LoveHendo Saturday." Financial support from Van Winkle Law Firm and Bryan Byrd, Realtor allowed the Friends of Downtown nonprofit to think creatively in how it supported downtown through purchasing adirondack chairs for outdoor seating to seed money for the Downtown Pivot Grant program to support downtown businesses in creative or innovative projects. LoveHendo Saturdays will take place in 2021 on the Second Saturday from May – December, partnering with several local events to provide a unique downtown experience.
Communication was key early on with weekly email updates to downtown businesses that included updates on what staff were working on and what resources were available for them like PPP loans and online educational seminars from the Small Business Center at Blue Ridge Community College. Downtown businesses connected with each other weekly with a "Downtown Happy Hour" zoom call that would include general conversation, brainstorming, and support from local resources like attorneys and insurance providers to provide support in navigating the programs. "This project was truly a partnership of everyone involved with Downtown coming together to support each other in creative ways" said Holloway, "we're so proud of the resiliency shown by our downtown businesses in 2020."
Hendersonville received a second award of merit for Best Adaptive Reuse for the Historic Grey Hosiery Mill Project.
The North Carolina Main Street and Rural Planning Center helps small towns create vibrant central business districts by preserving their historic fabric and building on their unique characteristics using local resources. A panel of judges chose this year's award winners from more than 30 nominations submitted by Main Street communities statewide.
The following projects received 2020 Awards of Merit:
ORGANIZATION AWARD
Best Public-Private Partnership in Downtown Revitalization
Belmont – Techworks Gaston
Best Economic Recovery Initiative
Belmont – Keep The Lights On In Belmont
Hendersonville – LoveHendo – Downtown Hendersonville COVID-19 Response Plan
Morganton – COVID-19 Small Business Recovery Strategy
Mount Airy – Market Street Arts & Entertainment District
PROMOTION AWARD
Best Downtown Special Event or Event Series
Salisbury – 2019 Cheerwine Festival
Best Retail Promotion
Belmont – Belmont Al Fresco Dining
ECONOMIC VITALITY AWARD
Best Adaptive Reuse Project
Fuquay-Varina – Governmental Facilities Project Fuquay-Varina Town Hall
Hendersonville – Grey Hosiery Mill Reuse
Wake Forest – Norse Brewing Company
Best Endangered Properties Rescue Effort
Lenoir – Stine's Ice Cream Parlor Building
DESIGN AWARD
Best Historic Rehabilitation Project
###
ABOUT DOWNTOWN HENDERSONVILLE
The Main Street & Seventh Avenue Advisory Committees exist to identify, preserve and enhance the key factors that contribute to the authentic small town urban character of historic downtown Hendersonville. Organizational projects are identified, assessed and prioritized based on their contribution to and potential to enhance and support a vibrant entrepreneurial environment and the livability of downtown.