December 3rd Holiday Market Vendor List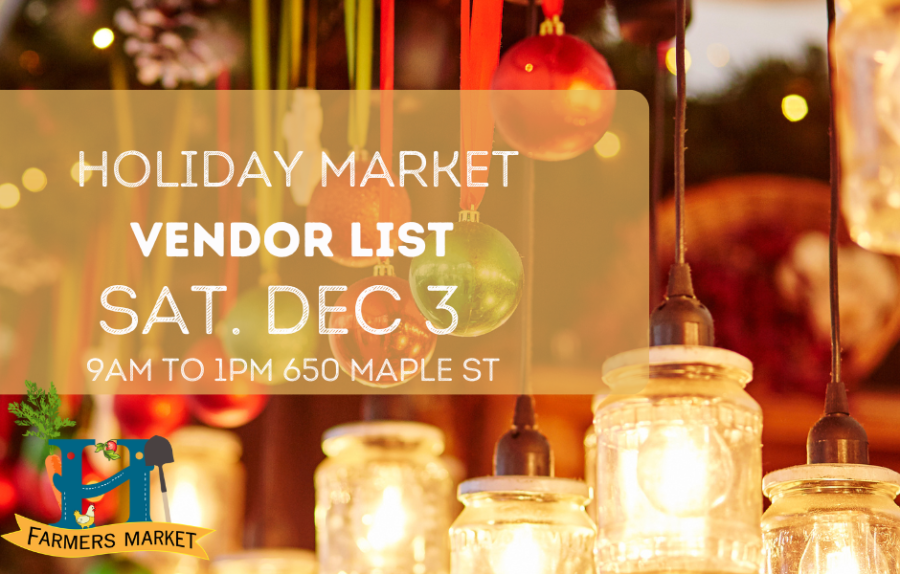 The last holiday market is here! Join us at 9am-1pm outdoors at the historic Train Depot! This is The perfect time to stock your pantries with feast-worthy baked goods and seasonal food items for the Holidays! Or find that perfect locally crafted gift for your early Christmas shopping. With 30+ vendors on site there is something for everyone to find!
MUSIC: Jacob Dunham
Farmers & Growers (produce, eggs, meat, honey, plants):  Barry Farms, Black Dog Flowers, Gray Family Farmstead, Grateful Bed Farm, GourMays Mushroom Farm, House of Brandstracts,  Honeybee Bliss, Lanning Road Farms, Popp's Posies at The Popp Shoppe, Saluda Grade Farm, Tiny Bridge Farm, Violet Aurora Farm
Value Added Food/Drink Vendors (baked goods, fermented foods, cheese, pasta etc.): Asheville Pretzel Co, Barnhouse Kitchen, Chef Squared Co.,  Deena's Bakery, Mimi's Mountain Mixes, Raspberry Fields, Sharewell Coffee Co., Sophia's Boutique,  Sweet Brine'd, Spinning Spider Creamery, Brezel Bus by Underground Baking Co. 
Arts & Crafts (nonfood/nonplant):  Mountain Barkery, Dragon Metal Studios, Best Friends Creations, JCS Pottery, Iris' Folk Medicinal and Doula Services llc, Studio David M, Whimsical Whatnots, Michael Blakes Baskets, Happy Toad Pottery, Mother Hubbard Crafts, Plated Bliss, Paper Clutz Co., ,  The Wild Ginkgo, The Tippy Books, Two Chicks Pottery, Sophia's Boutique, Options 1111, Parish Members of St. Anthony The Great
Young Entrepreneur:  A Piece of Maine, Rachel's Scarves