City of Hendersonville Introduces New Public Services Department, Promoting Internal Talent to Harness Operational Expertise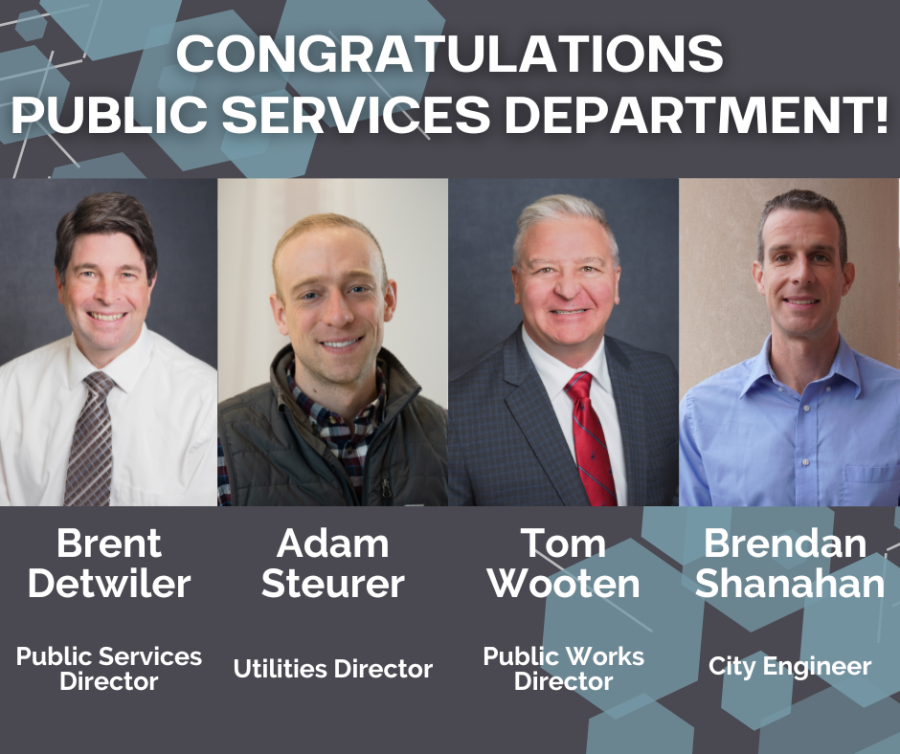 The City of Hendersonville is creating a new Public Services Department to combine the Public Utilities, Engineering, and Public Works departments. The reorganization aims to streamline services and improve efficiencies as the City, and the increasing service demands, continue to grow.
Previously the department heads for the Public Utilities, Engineering, and Public Works departments reported directly to City Manager John Connet. The new configuration allows the three departments to report to a Public Services Department Director, Brent Detwiler, who will report directly to the City Manager. The unified configuration of these operational departments is not uncommon in local governments that are offering a wide range of services like Hendersonville.
The City saw an opportunity to assess the structural framework with the retirement of Utilities Director Lee Smith. City Manager John Connet shared his insight during City Council's July workshop meeting: "As the City continues to grow, we're actively seeking avenues for enhanced efficiency. All three of these departments share similar functions, personnel, and equipment. We firmly believe that this unified approach will position the City for future success, accommodating growth and adapting to evolving community needs."
The launch of the Public Services Department marks a step forward for the City of Hendersonville, demonstrating its commitment to excellence, innovation, and community-focused governance. The City has made key internal promotions to the newly established leadership positions. These promotions highlight the City's commitment to harnessing its internal expertise to drive operational success and improve inter-departmental communications. Brent Detwiler will take the lead as the new Public Services Department Director, Adam Steurer as Utilities Director, Brendan Shanahan as City Engineer, and Tom Wooten as Public Works Director.
Brent Detwiler
Brent Detwiler is originally from the northeast Ohio area and graduated from the University of Akron with a Bachelor of Science in Civil Engineering in 1994. He worked for several consulting firms and a county utility in Ohio until the western North Carolina mountains called in 2008, and Brent and his family moved to Henderson County. He has spent the last 13 years working as the City of Hendersonville's City Engineer and is honored to continue to serve the community in his new role as the City's Public Services Director.
Adam Steurer
Adam Steurer has served as the City of Hendersonville Water and Sewer Department's Utilities Engineer since 2017 designing and managing utility capital improvement projects, assisting with utility strategic planning, and supporting internal utility personnel with technical operations and maintenance activities.
He is a native of Henderson County and is passionate about leading the utility's knowledgeable and dedicated staff in providing the highest level of water and sewer service to the community. Adam graduated from West Henderson High School and received a bachelor's degree from North Carolina State University. Adam is a licensed Professional Civil Engineer.
Brendan Shanahan
Brendan Shanahan is native to beautiful Nyack, New York. He graduated from Ramapo College of New Jersey and received a master's degree in Civil & Environmental Engineering from Carnegie Mellon University in Pittsburgh. Brendan settled with his wife in Western NC in 2007 and began his career with McGill Associates engineering consulting firm. He joined the City's Engineering Department as a Civil Engineer in 2013. His family has grown to include a son and daughter. Brendan is honored to be part of the City of Hendersonville team.
Tom Wooten
Tom Wooten grew up on the coast of North Carolina and graduated from East Carolina University with a Bachelor of Science in Biology in 1994. He served as Public Works Superintendent and Building Inspector for the Town of Topsail Beach prior to moving to Hendersonville in 2002 and starting his career with the City of Hendersonville. Tom has served as Director of Public Works since 2004 and raised a family here in Henderson County. He is honored to serve the City of Hendersonville's residents and visitors side-by-side with an outstanding group of staff members.