City Council Considering Upgrades to Fire Station 1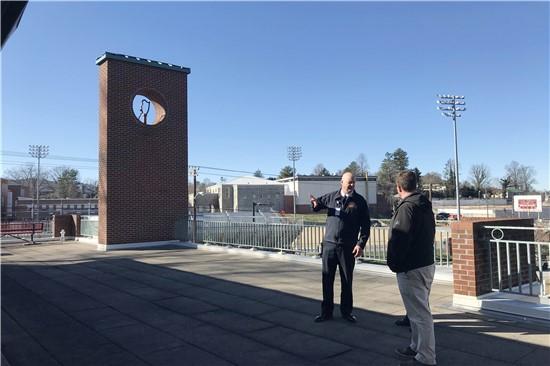 City Council is considering options to address space and safety concerns at Fire Station 1. The twenty-year-old building underwent a study by ADW Architects that assessed the existing building, outlined space needs, and provided potential options for renovation or replacement.
The study found Station 1 has needs that range from roof and building condition issues as well as a need to improve safety features like the creation of a dedicated decontamination room and fire pole shutters that limit carcinogens entering living spaces from the apparatus room. The facility is not meeting ADA standards and there are issues with paving outside the bays. The study outlined programmatic needs that include a need for larger kitchen, day room, additional bathrooms, and parking to accommodate vehicles, especially the number that are present during shift change.
The Hendersonville Fire Department is in the process of hiring an additional 12 firefighters made possible by the award of a $1.25 million SAFER grant. Adding the additional engine company and Battalion Chiefs will improve fire coverage throughout the city. The additional personnel could potentially be housed in the already crowded Station 1 until the future Station 3 is built on Old Spartanburg Road, but these are considerations to be made by City Council in the coming months.
City Council members received a copy of the study and have had the opportunity to tour Station 1 and meet with a representative from ADW Architects ahead of their January meeting when they will likely discuss options. Design opportunities include concepts that renovate or replace the station with alternatives for additional administrative space. The new construction concepts presented by the architect show drive-thru garage bays which are in line with modern fire station construction and would limit the hazards associated with firefighters backing the apparatus into the bays, as the current facility requires.
City Manager John Connet and Interim Fire Chief James Miller provided local media members with a tour of Fire Station 1 on December 18 to show some of the facility's issues. Both highlighted the need to provide a safe and functional space for first responders.