Celebrating the Annual Monarch Migration during September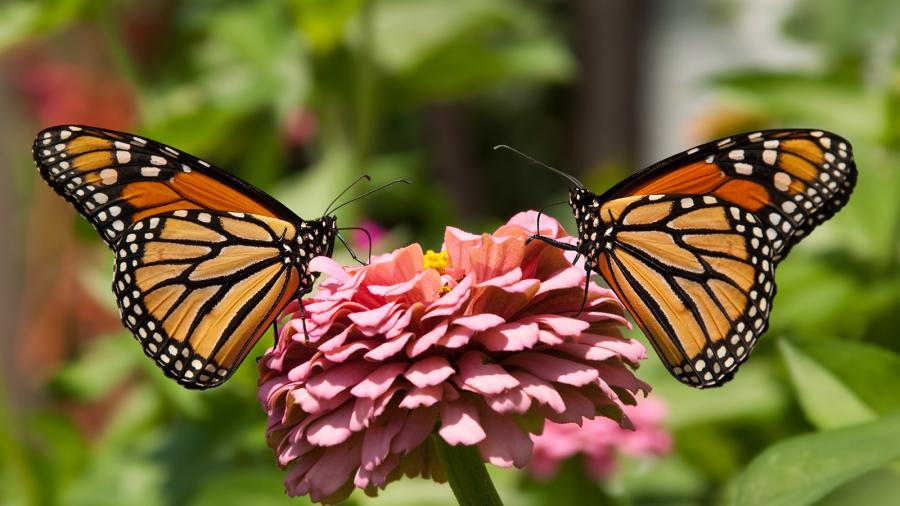 Mid-September through early October is the best time to watch for migrating monarch butterflies in our area. To celebrate this wondrous natural phenomenon, educational programs are being hosted in Hendersonville, sponsored by Hendersonville's Bee City USA program.
28th Annual Symbolic Monarch Migration to Mexico
Mid-August to Friday, October 20
Presented by: Bee City USA - Hendersonville
From the Hendersonville area, the monarch migration is an epic journey to Mexico covering at least 2,000 miles. Like clockwork, the first migrating monarchs typically reach their over-wintering habitats high in the mountains of central Mexico by the first of November. To celebrate this amazing feat, more than 10,000 children from across the United States and Canada will participate in the 28th annual Symbolic Monarch Migration by creating paper butterflies to send to Mexico for the winter. Local classrooms, youth organizations, and individual students are invited to join them.
These symbolic butterflies will correspond with the living monarchs' actual journey south … and as the real-life monarchs arrive in Mexico for the winter, the symbolic butterflies will be delivered to schools in the area of the Monarch Butterfly Biosphere Reserve. Sometime in spring after the living monarchs' departure from Mexico, groups of paper butterflies will also return north carrying special messages from the students in Mexico. United by the monarch butterfly, children across North America learn authentic lessons of conservation, cooperation, and ambassadorship.
As funding allows, any group (up to 30 participants) of youth located within the City of Hendersonville and/or Henderson County may take part in the program at no cost. Individual students who are not part of a registered classroom or group may also participate at no charge by creating a paper butterfly and mailing or delivering it to Bullington Gardens by Friday, October 20, 2023 (95 Upper Red Oak Trail, Hendersonville 28792). For more details visit www.bullingtongardens.org/symbolic-monarch-migration.
Other events scheduled during Monarch Month are as follows:

Bullington Gardens Fall Plantapallooza Sale
Friday, September 8 & Saturday, September 9, 9 a.m. – 4 p.m.
Presented by: Bullington Gardens, 95 Upper Red Oak Trail, Hendersonville
The plant sale features a range of natives, old favorites, and exciting new introductions while supporting the mission of Bullington Gardens. For more information visit www.bullingtongardens.org/eventsandclasses/fall-plant-sale-plantapallooza.
Hendersonville Farmers Market
At Historic Train Depot, 650 Maple St., Hendersonville
Saturday, September 16, 8 a.m. - 1 p.m.
Presented by: Milkweed Meadows Farm
See live monarchs in different life cycle stages, make a paper butterfly to send on a journey to Mexico and back as part of the Symbolic Monarch Migration program, and/or purchase native milkweeds and other pollinator-friendly plants.
Best Plants for Your Pollinator Garden
At Henderson County Extension Center, 100 Jackson Park Rd., Hendersonville
Monday, September 18, 7 - 9 p.m.
This monthly meeting of the Henderson County Beekeepers Association is free and open to the public. The presentation will focus on native and locally adopted plants to help support bees, butterflies, moths, hummingbirds, and other pollinations. For more information visit https://hcbeekeepers.org/2023-hcba-speakers/.
Pollinator Field Day
At Mountain Horticultural Crops Research and Extension Center, 455 Research Drive, Mills River
Saturday, September 23, 10 a.m. - 2 p.m.
Landowners, backyard gardeners, farmers, families, etc. are invited to come meet representatives from N.C. Wildlife Resources Commission, N.C. Pollinator Conservation Alliance, U.S. Fish and Wildlife Service Asheville Field Office, and others to learn more about monarchs, bumblebees, and tips on planting native habitats. There will be tours of the research station, presentations, and interactive exhibits. For more information visit https://mountainhort.ces.ncsu.edu/events/.
15th Annual Flock to the Rock
At Chimney Rock State Park, 431 Main St, Chimney Rock
Saturday, September 30, 10 a.m. – 3 p.m.
This event is held during the fall migrations of birds and monarch butterflies. As a spot on the NC Birding Trail and a Monarch Waystation, this is an excellent place to experience these incredible natural phenomena with the family. Live raptor programs, bird and pollinator activities, intro to birding hikes, and the annual hawk watch from the Chimney. The events are included with admission to the park of $8/day for youth and $17/day for adults.