Budget Approved for Fiscal Year 2019-2020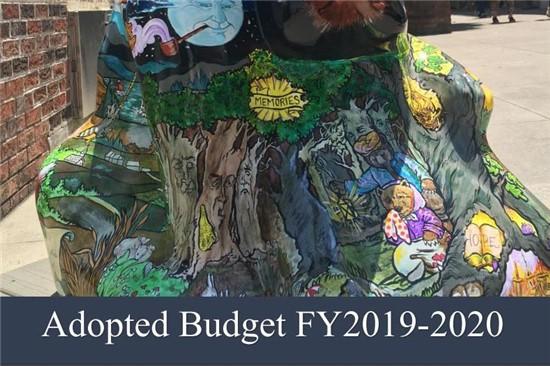 On June 6, 2019, the Hendersonville City Council voted to adopt the FY 19-20 Budget. The City budget is crafted around the following six focus areas: Economic Vitality, Strong Partnerships, Sound Infrastructure, Numerous Amenities, Great Public Services, and Financial Sustainability. The adopted City of Hendersonville Budget totals $38,721,053 with expenditures and revenue dispersed among nine governmental and proprietary funds.
During his presentation to Council on June 6th, City Manager John Connet explained the FY 19-20 Budget is based upon information presented and discussed during the City Council/Staff Retreat on February 21st and 22nd, 2019. In addition, the City Council attended two Budget Workshops on April 11th, 2019 and May 3rd, 2019. These meetings provided an avenue for priority setting, fact finding, and general inquiries regarding the City's Budget for FY 19-20.
City Manager John Connet summarized the long-term revenue picture for the City and highlighted that property tax was the only truly reliable revenue source available to the City. He also provided the following summary to Council before they voted on the budget:
"The City Council has made a commitment to maintain a high level of service to our citizens by significantly investing in facilities, equipment and people. You have committed to supporting our employees and their families by assuming a portion of dependent medical insurance costs. You are continuing to support the Hendersonville Fire Department by authorizing a grant application for twelve firefighters, moving forward with the purchasing of new fire apparatus and directing staff to investigate the renovation of Station 1 and construction of Station 3. The Building and Property Maintenance Building is nearing completion and the downtown restrooms are currently under construction. The 4th Avenue streetscape will begin in the November and construction of the new police headquarters is scheduled to start in December 2019. In addition, over the next twenty-four months, the City will be making significant water and sewer infrastructure improvements. Improvements including a new water intake on the French Broad River, water system improvements in Etowah and Fletcher, and sewer line replacements in the older parts of our system. These items as well as numerous other capital projects, employee benefits and equipment purchases in the FY 19-20 Budget are positioning the City of Hendersonville to serve our citizens for the next fifty years."
Connet expressed that the City must continue to be vigilant in understanding how the growth of the community directly affects how existing services are provided to citizens and visitors.
"The budget is fiscally sound, and although it does not fund all the requests made by departments or external agencies, it does address the top priority needs of the City and is set at a level to maintain a high level of service for Hendersonville citizens, customers and partners," said the City Manager.
Following the budget presentation, City Council unanimously voted to adopt the budget.