Bearfootin' Bear Auction Countdown Concludes on Saturday October 15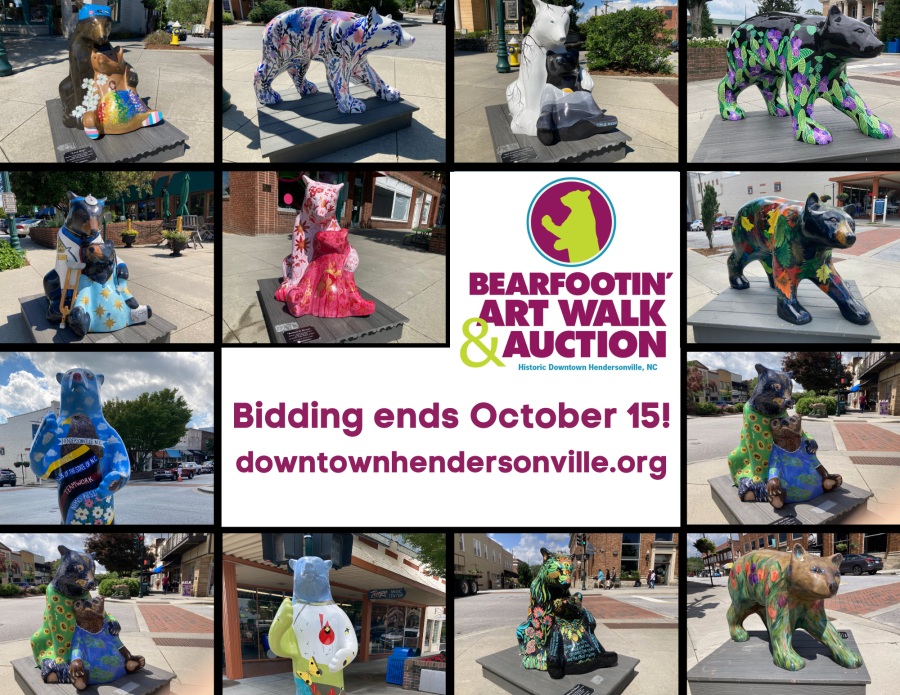 Bidding for the 2022 Bearfootin' Art Walk continues until October 15 at 6pm.
After a successful pivot from a traditional live auction to a virtual auction which raised more than $84,000 in 2020 and $100,000 in 2021, the Friends of Downtown Hendersonville continued the virtual bidding format in 2022, with 7 bears already purchased and the total raised over $96,000 with a week remaining.
To celebrate the final hours of the auction, the public is invited to a countdown event on October 15 at the Historic Courthouse Square on Main Street from 4:30 pm until 6:00 pm. Attendees and bidders will meet the bears while enjoying live music, beer, wine, and other refreshments. The event hosts will guide participants through the evening, announcing incoming bids amid charming commentary. While there won't be voice call bidding at the event, attendees will be able to bid live via cell phone and can ask for setup assistance at a designated registration table.
How to bid:
Go to: accelevents.com/e/bearauction22 or downtownhendersonville.org.
Select bear and click "bid now."
Bidders will enter name, cell phone, credit card, email address and mailing address.
Bidders will make their desired bids, starting at $1,500 with a minimum bid of $100. A buy it now price is available for $10,000.
Any bear can be purchased ahead of the bidding deadline at our "Buy Now" price of $10,000. The "Buy Now" option ends Thursday, October 13 at 5:00 pm. Please note: If you are interested in purchasing a bear using the BUY NOW function, please note that it WILL charge your credit card immediately. If you do not wish to pay via credit card, please contact info@downtownhendersonville.org ASAP and we will arrange payment options.
The auction software will send a text confirmation of bids and a notification if outbid.
For the final week leading up to the auction, the bears will find their way to the Historic Courthouse Plaza.
Interested in taking a bear home? We have 13 bears remaining! Bid or buy now before the auction concludes on October 15!
Healing Together, current bid: $1500
Sponsor: Meliora Cabinetry
Artist: Andrea Leigh
Nonprofit Beneficiary: Safelight
Yona and Lily, current bid: $1500
Sponsor: H4Y Board of Directors
Artist Name: Linda Allen
Nonprofit Beneficiary: Homes for Youth
Iris, current bid: $1500
Sponsors: Attorney's Title, Homestead, Moe's Original Bar B Que, RE/MAX Results, Sherman's Sports and Army Store
Artist: Natalie Bennett
Nonprofit Beneficiary: Henderson County Hunger Coalition
Love Bug, current bid: $1500
Sponsor: Troy Drake & Danny Wiley
Artist: Kay Rose Sloat
Nonprofit Beneficiary: PFLAG Hendersonville
A-"Flora"-ble Housing, current bid: $1600
Sponsor: Hendersonville Board of REALTORS of Henderson and Polk Counties
Artist Name: Shayna Landreth
Nonprofit Beneficiary: Housing Assistance Corporation
Benny the Benevolent, current bid: $1700
Sponsor: The Lucy Clark Studio & Gallery
Artist Name: Maureen Chapman
Nonprofit Beneficiary: Community Foundation of Henderson County
Haven & Bloom, current bid: $2300
Sponsor: Margaret Stallings Arnold & Ed Arnold
Artist Name: Heidi Mayfield
Nonprofit Beneficiary: Boys & Girls Club of Henderson County
Protect-and-Serve, current bid: $3000
Sponsor- Bridge Church-Hendersonville
Artist Name- Elizabeth Pooler
Nonprofit Beneficiary- First Responder Ministry-Henderson County
Take The Road Less Traveled, current bid: $2700
Sponsor: Burlett Painting, LLC
Artist Name: Dee Ballenger
Nonprofit Beneficiary: Hendersonville Family YMCA
Charley, current bid: $2350
Sponsor: Kelly Green
Artist: Richard Norris
Nonprofit Beneficiary: Council on Aging
Barbara in Bloom, current bid: $2250
Sponsor: Nancy & Robert Rice
Artist: Natalie Ray
Nonprofit Beneficiary: Project Dignity of WNC
Dr. Shriner Bear, current bid: $2000
Sponsor: Hendersonville Shrine Club
Artist Name: Kevin Burns
Nonprofit Beneficiary: The Shriners Childrens Hospitals
Mad Mountain Mama Bear, current bid $3700
Sponsor: ShareWell Coffee Co. & Roastery
Artist: Jazz Rode
Nonprofit Beneficiary: True Ridge