Bearfootin' Auction surpasses $100,000 in proceeds for nonprofits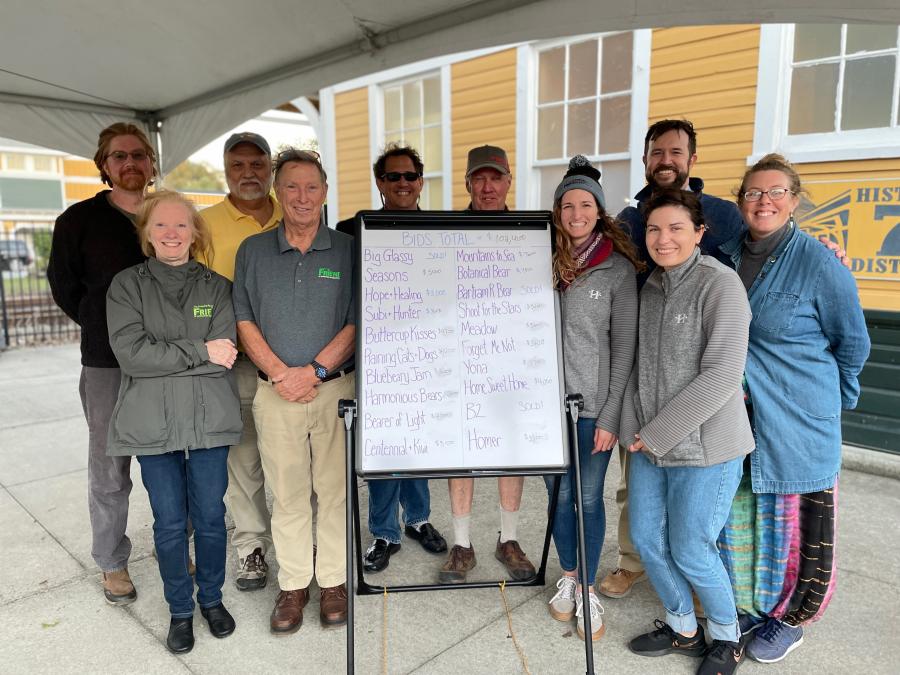 Bearfootin' Auction surpasses $100,000 in proceeds for nonprofits
HENDERSONVILLE, N.C. (October 20, 2021) - In an exciting conclusion of a month-long virtual auction, the 19th annual Bearfootin' Bear Auction generated $102,400 to benefit local nonprofits. This is a $18,291 increase from the 2020 total and almost twice the amount from the last in-person auction in 2019.
Each of the 20 bears brought in at least $2,700, and the average sale price for a bear was $5,120. Three of the bears sold at the Buy Now option for $10,000, which was available through the Thursday leading up to the auction. A total of 92 bidders placed more than 272 bids throughout the auction period.
While the virtual format has replaced the traditional in-person auction for the second year, a countdown celebration was held at the Depot Plaza in the 7th Avenue District of Downtown Hendersonville. All 20 bears were on display and bids were updated in the final hours of the auction. Nonprofit representatives and volunteers cheered on their bears as bids came in during the exciting final minutes of bidding.
Part of the proceeds from each bear benefit a designated local nonprofit. The first $3,000 of the winning bid is split with the organizing nonprofit, Friends of Downtown Hendersonville, to sustain the event and support the overall Downtown Program. Any amount above the first $3,000 goes entirely to the designated nonprofit (in other words, a maximum of $1,500 per bear will go towards Friends of Downtown Hendersonville).
"We are thrilled and overwhelmed by the generosity of the community after this year's Bearfootin' Auction," said Jamie Carpenter, Downtown Manager, "the virtual bidding format has proven to be a huge success for the auction and we're looking forward to next year's 20th Anniversary of the Bearfootin' program."
The event was bittersweet this year for the Friends of Downtown staff and volunteers with the passing of Downtown Events & Marketing Assistant Tasha Roby a few days prior. In her honor, the proceeds Friends' bear "Seasons" will go to support the family's expenses after their unexpected loss.
Interested in getting involved in next year's Bearfootin' Art Walk? The application to sponsor a 2022 bear is now open with a maximum of twenty bears available. Contact Events Coordinator mfriedheim@hvlnc.gov or 828-233-3205 for more information.
###
ABOUT THE FRIENDS OF DOWNTOWN HENDERSONVILLE
The Friends of Downtown Hendersonville exist to identify, preserve and enhance the key factors that contribute to the authentic small-town urban character of historic downtown Hendersonville. Organizational projects are identified, assessed and prioritized based on their contribution to and potential to enhance and support a vibrant entrepreneurial environment and the livability of downtown.