August 28 Vendor List at Hendersonville Farmers Market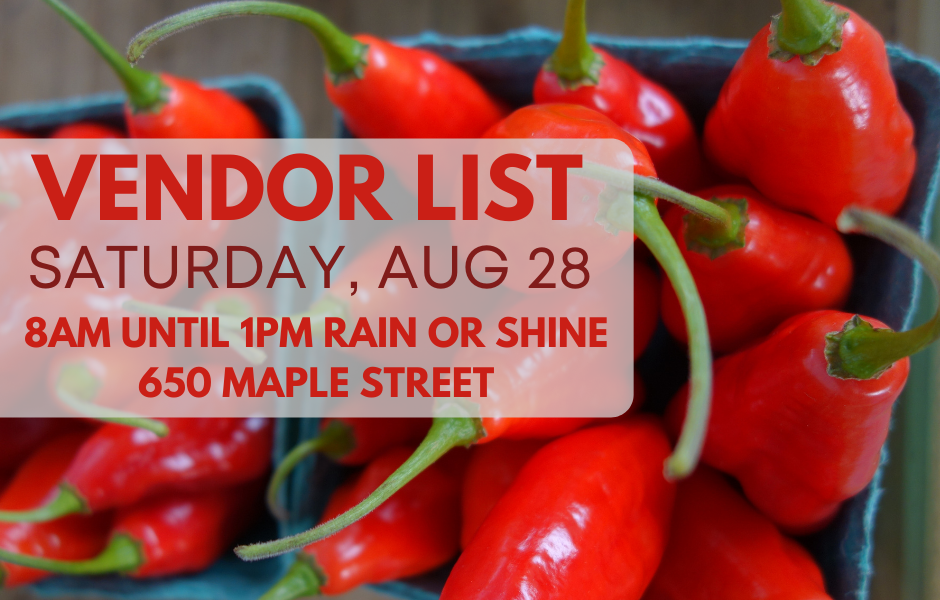 Meet us at the market this Saturday! Late summer produce is looking mighty fine. Think: apples, cantaloupe, okra and sweet corn. Grab an iced coffee from Sharewell, a taco from Molka-GT food truck, and let the shopping begin!
Featured Learning Experience with For the People Academy:
Knife sharpening (bring your own knife!)
Severe Bleeding class focusing on tourniquets - 10-15 mins from Red Cross Certified teacher (no certifications for this class)
Live Music: Myron Hyman
Food Truck: Molka-GT Kitchen on Wheels
Farmers & Growers (produce, eggs, meat, honey): The AppaLatin Farmstead, Barry Farms, Black Dog Flowers, Bright Branch Farm, Broom's Blooms, Colfax Creek Farm, Crow Holler Produce, Garden of Griffin, Grateful Bed Farm, M & M Berry Farm, Mickey Lively Plants, Natural Foods, Newman Farm, Popp's Posies at The Popp Shoppe, Pressley Farm, Simply Caught Seafood, Sylvia's Plants, Tiny Bridge Farm
Prepared Food/Drink Vendors (baked goods, fermented foods, value added products): Asheville Pretzel Co, Chef Squared Co., DARE Vegan Cheese, Deena's Bakery, Echo Mountain Inn Cold Pressed Juice, Raspberry Fields, Serotonin Ferments, ShareWell Coffee Co. & Roastery, Underground Baking Co.
Arts & Crafts (nonfood/nonplant): Handwoven Baskets by Michael Blake, Happy Toad Pottery, Mountain Barkery, Sage and Spirit Design, The Wild Ginkgo