August 27 Vendor List at Hendersonville Farmers Market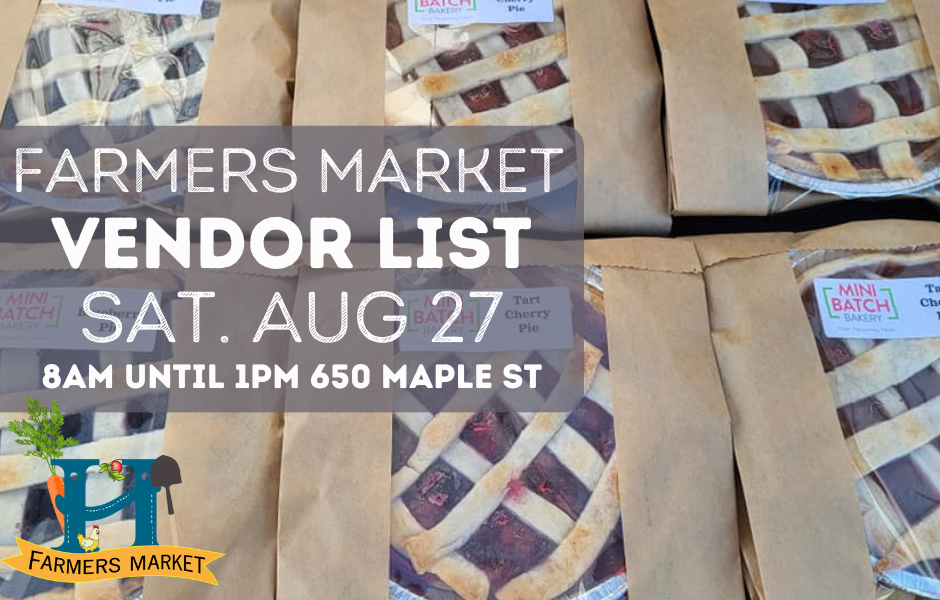 It's gearing up to be another wonderful Saturday at Hendersonville Farmers Market! Customers will find more than 40 local vendors offering seasonal produce, baked goods, handmade crafts, and more! Check out this week's vendor and activity lineup below.
Live Music: Asheville Junction (Depot) and Collin Cheek (Jam Tent)
Kids' Activities:
Hang out with live reptiles from Team ECCO!
Face painting at the Depot
Cooking Demo: 10-11am with Farm Bureau Women's Program
Farmers & Growers (produce, eggs, meat, honey, plants): Barry Farms, Bee-utiful Farm and Garden, Bright Branch Farm, Broom's Blooms, Cleveland's Natural Farm, Colfax Creek Farm, Crow Holler Produce, Garden of Griffin, GourMays Mushroom Farm, Grateful Bed Farm, Gray Family Farmstead, Honeybee Bliss, Lanning Road Farms, M&M Berry Farm, Newman Farms, Pressley Farm, Saluda Grade Farm, Sylvia's Plants, Tiny Bridge Farm, Violet Aurora Farm, Wise Earth Way
Value Added Food/Drink Vendors (baked goods, fermented foods, cheese, pasta etc.): Asheville Pretzel Co, Asheville Tea Company, Boom Boom Kettle Corn, Brandstracts, Deena's Bakery, Homemade Pasta Noodles, Mimi's Mountain Mixes, Raspberry Fields, Sea of Sweets Bakery, Shanti Elixirs, ShareWell Coffee Co. & Roastery, Spinning Spider Creamery, Brezel Bus by Underground Baking Co.
Arts & Crafts (nonfood/nonplant): Dragon Metal Studios, Eli Tomalka Woodworks, Handwoven Baskets by Michael Blake, Options 1111, Wise Earth Way
Nonprofit: League of Women Voters
Hendersonville Farmers Market takes place every Saturday (May-Oct) at the Historic Train Depot on 650 Maple Street, 8am-1pm. Learn more at hendersonvillefarmersmarket.com.