August 14 Vendor List at Hendersonville Farmers Market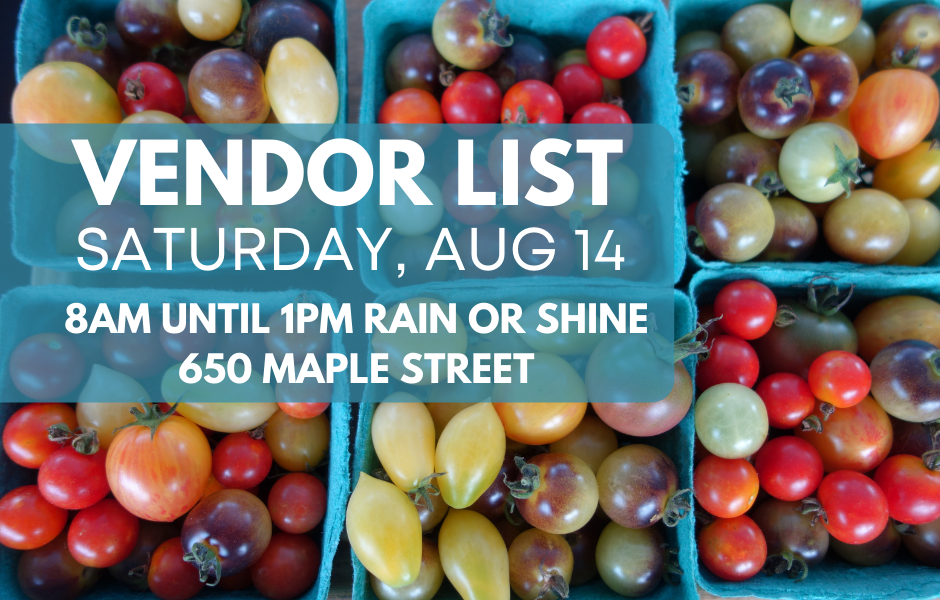 The summer abundance continues this weekend at Hendersonville Farmers Market with 40 vendors, live music and more.
Live Music: Myron Hyman and Fiddlin' Ryn
Free Massages from Yoga and Massage!
Sponsor Table: One Health Direct Primary Care
Nonprofit: Friends of Carl Sandburg
Farmers & Growers (produce, eggs, meat, honey): The AppaLatin Farmstead, Barry Farms, Bee-utiful Farm and Garden, Bright Branch Farm, Broom's Blooms, Colfax Creek Farm, Crow Holler Produce, Fair Hollow Garden, Fruitland Farmstead, Garden of Griffin, Grateful Bed Farm, Hillside Farm, Honeybee Bliss, M & M Berry Farm, Mickey Lively Plants, Natural Foods, Newman Farm, Pressley Farm, Revis Farms, Sylvia's Succulents, Cacti and Plants, Tiny Bridge Farm, Violet Aurora Farm
Prepared Food/Drink Vendors (baked goods, fermented foods, value added products): A Piece of Maine, Asheville Pretzel Co, Chef Squared Co., Boom Boom Kettle Corn, DARE Vegan Cheese, Deena's Bakery, Echo Mountain Inn Cold Pressed Juice, Guidon Brewing Company, Homemade Pasta Noodles, Raspberry Fields, Sea of Sweets Bakery, Serotonin Ferments, ShareWell Coffee Co. & Roastery, Spinning Spider Creamery, Underground Baking Co.
Arts & Crafts (nonfood/nonplant): Mountain Barkery, Out of the Drawer Quilts, Sister Soaps and Brother Bars
Food Truck: Daddy D's on Wheels