Fire Station Construction Kicks-Off as Boyd Park Amenities Begin Journey to New Locations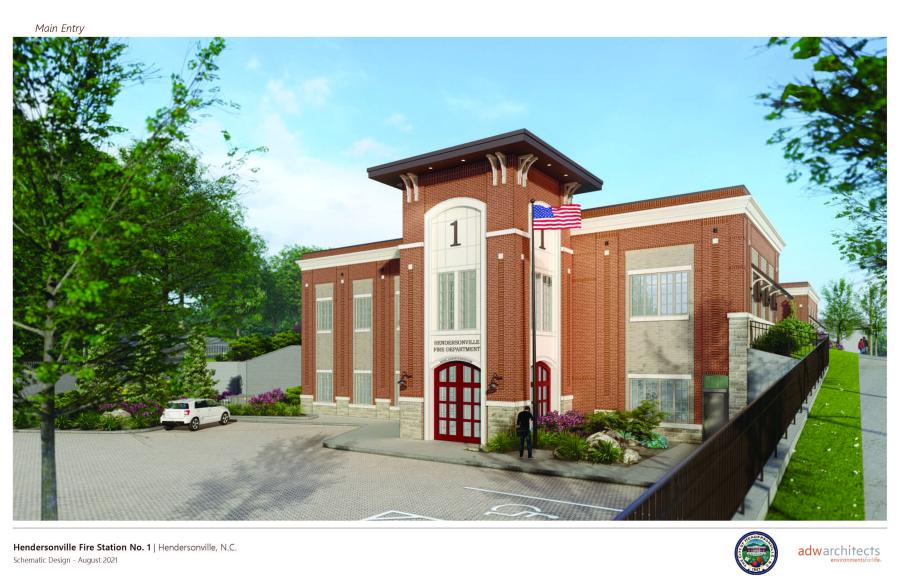 Today the Hendersonville Fire Department takes one step closer to a new Fire Station 1 as the Boyd Park site officially closes and construction ramps up.
The construction period moving from the outgrown Hendersonville Fire Station 1 and completion of the new 19,750 square foot station requires flexibility from Hendersonville Fire Department staff and the collaboration of fantastic community partners. Construction fencing goes up today as Station 1 demolition ramps up. The estimated completion of the new station is expected in the Spring of 2024.
"City Council has prioritized public safety and made thoughtful decisions throughout this process to ensure efficient delivery of emergency services," said City Manager John Connet. "Our fire department would not be able to provide uninterrupted service during this construction process without the collaboration and support of Henderson County's Emergency Services Director Jimmy Brissie and the Henderson County Board of Commissioners."
In preparation of Station 1's demolition, Hendersonville Fire's administrative team, City and County Managers, Emergency Services Director Brissie, and Valley Hill Fire & Rescue's Fire Chief Tim Garren developed a plan to relocate and house crews strategically throughout Hendersonville to uphold HFD's commitment to efficient response times to incidents occurring in the City.
"Our department appreciates City Council's commitment to providing us with a primary station equipped to serve our growing community and department," said Hendersonville Fire Chief D. James Miller. "Adapting to change certainly has its challenges, but the growing pains will all be worth it when we are celebrating Station 1 at a grand opening ceremony next year."
Hendersonville Fire Department operates three rotating shifts supervised by a Battalion Chief that provide 24-hour coverage with three engines and one ladder truck. In late 2022, HFD's downtown ladder company, engine 9-3 and battalion 9 joined engine 9-2 at Hendersonville's Fire Station 2 on Sugarloaf Road. One engine company has been operating out of Henderson County's Emergency Services building on Asheville Highway and the final engine company has been operating a peak-hour truck out of Valley Hill Fire & Rescue's Station on Willow Road. The fire department's administrative staff are split between a temporary trailer at Station 2 and office space provided by Carolina Village during the construction process.
"We are truly blessed to have so much support in this community that allows our department to continue our excellent response times and customer service while we are without our primary station," said Hendersonville Fire Chief D. James Miller. "The hospitality and generosity of Henderson County Emergency Management, EMS, Rescue Squad, and Valley Hill Fire & Rescue are unmatched. The way our organizations work together doesn't always happen in other parts of the country and state, and we are thankful for the relationships we have with our partners in Henderson County." Chief Miller also expressed his appreciation to Executive Director Kevin Parries and Carolina Village for providing two administrative staff members office space until the new Station 1 is complete.
Boyd Park's tennis court and mini-golf amenities officially closed at the end of January as construction fencing goes up and final preparations are made before demolition begins. The City still provides two tennis courts in Patton Park with plans to expand the court offerings. In September 2022, City Council approved the redevelopment of the tennis court and former racquetball areas in Patton Park. When completed, the new amenity will include six dedicated pickleball courts and two dedicated tennis courts at Patton Park. Construction on the courts is expected to start in the summer of 2023.
Sitework is underway in Edwards Park which will house the reimagined Laura E. Corn Mini-Golf. Underutilized for years and only a few steps away, Edwards Park will continue to house the Boy Scout huts as well as a new accessible miniature golf course, concession stand and playground. Local artists and organizations are collaborating to blend old and new course features from the Boyd Park location that honors history and tradition in the newly designed Edwards Park expected to open in the fall of 2023.
For more information on these and other City of Hendersonville projects visit www.hendersonvillenc.gov.