"Working To Be Plastic Free" Program Recognizes Local Business Sustainability Efforts
Media contact:
Katie Breckheimer, Chair
Working to Be Plastic Free
Phone: 828-692-0385 ext.1004 | Email: sro@mountaintrue.org
The retail and foodservice industries are major contributors to the plastic pollution that ends up in our communities. To address this problem, the local nonprofit MountainTrue and the Hendersonville Environmental Sustainability Board have teamed up to recognize local businesses that are "Working To Be Plastic Free." Businesses can join the program by signing a pledge to take meaningful steps toward reducing single-use plastic items like water bottles, plastic bags, takeout containers, cutlery, and straws.
Businesses that take the "Working To Be Plastic Free" pledge will receive a window decal to advertise their commitment to customers. Businesses that are enrolled will have access to consultation with local experts and will continue to be publicly recognized in MountainTrue's media.
A pledge packet with more information is available here!
Or, contact Katie Breckheimer, chair of the Working to Be Plastic Free program at sro@mountaintrue.org
"The vast majority of litter we see on our streets and in local waterways is single-use plastic," said Beth Stang, chair of the City's Hendersonville Environmental Sustainability Board. "We're excited to work with MountainTrue to recognize businesses working to address this problem and to suggest alternatives to plastic, like compostable or reusable items."
In July, Hendersonville's City Council approved a resolution to kick off the new program, and shortly thereafter Mayor Volk signed the Working to Be Plastic Free Pledge for the city to participate. In the first month of the new program, ten local businesses accepted the challenge of becoming as plastic-free as possible: Dancing Bear Toys, Dogwood, Shine, Be Clutter Free, Highland Lake Inn and Resort, Smart Start Partnership, Juls Buckman Photography, Well-Adjusted Chiropractic, and Underground Bakery.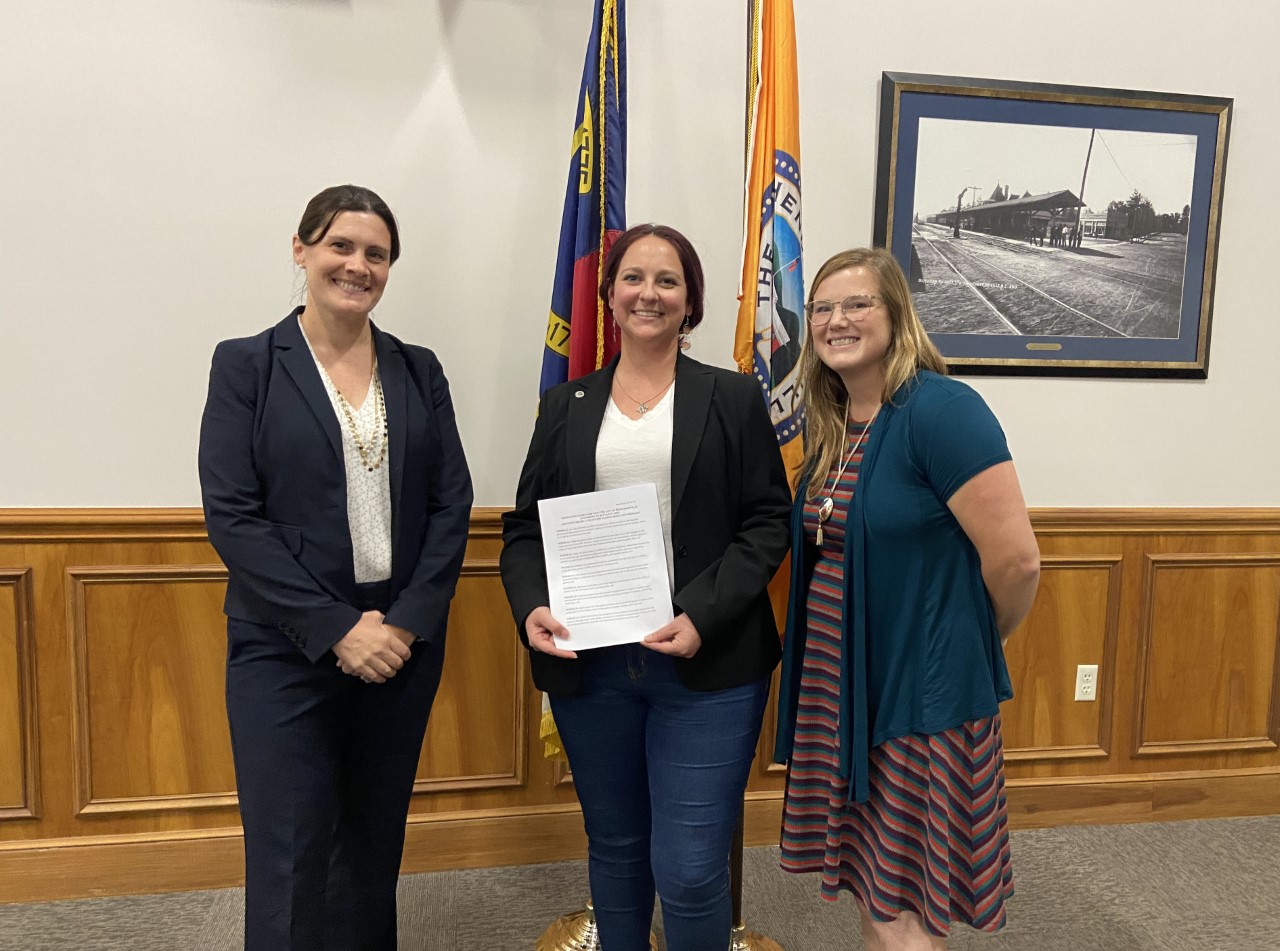 L to R: Beth Stang, chair of Hendersonville's ESB. Lyndsey Simpson, H'ville City Councilwoman, and Christine Wittmeier, chair of MtnTru's Recycling Team hold a July 1st proclamation endorsing the Working to Be Plastic Free program. Photo attached.
Julie Buckman, the owner of two downtown businesses, explains her reason for taking the Working to Be Plastic Free pledge, "We want the treasured photographs we create to last generations, not the packaging they are delivered in. We want to be part of the generation that embraces re-using cloth bags and other alternatives to plastic that are smarter, better, and safer for our health, our planet, and our futures."
According to Christine Whitmire, Henderson County's Environmental Program Manager, "Very few single-use plastics are recyclable, and if they are, they rarely get to the right place, so our landfills are filling up at alarming rates."
While plastic pollution has an immediate effect on local streams and wildlife, it also has a long-term effect on people. Single-use plastic items break down into smaller and smaller pieces called microplastics, which make their way into the food we eat and into our drinking water.
"MountainTrue has launched a water sampling program to try to quantify the extent of microplastic pollution in local waterways," said Gray Jernigan, Southern Regional Director of MountainTrue. "So far, 100% of the samples collected, including sites on Hendersonville's Mud Creek, contain micro-plastic."
About MountainTrue
MountainTrue champions resilient forests, clean waters and healthy communities. We are committed to keeping our mountain region a beautiful place to live, work and play. Our members protect our forests, clean up our rivers, plan vibrant and livable communities, and advocate for a sound and sustainable future for all. MountainTrue is home to four Riverkeepers: on the Broad, French Broad, Green, and Watauga. Mountaintrue.org

About the Hendersonville Environmental Sustainability Board (ESB)
The ESB is an appointed board, whose purpose is to serve in an advisory role to the City Council in matters pertaining to policies and practices regarding environmental sustainability. They promote, facilitate, and act as liaisons to educate citizens on environmental issues affecting the City of Hendersonville.