Etowah Area Water Improvements Project
Project Overview
The Etowah Area Water System Improvement Project includes the installation of approximately 14,800 linear feet of 12 and 8-inch water mains, a 500,000-gallon ground level water storage tank, construction of a booster pumping station, access road, and demolition of an existing elevated water storage tank and three existing booster pumping stations. The project will increase pressure and fire flow in the area through the use of pressure zone modifications.
Pressure Zone Modification
The City of Hendersonville has been making improvements to its water system in the Etowah area to help maintain safe and reliable water service. This work began in Fall 2019 and should be completed in the Spring of 2021.
What changes are happening?
Existing water pressure within the Etowah area ranges from 20 to 85 pounds per square inch (psi). Once the project is completed in the Spring of 2021, pressures may increase by approximately 40 psi above the current water pressure.
How do I know if my property is within the area of the pressure zone modification?
Properties within the upcoming pressure modification in the Etowah area will receive the following:
Initial pressure zone modification letter mailed at least 4 months in advance of the change
Secondary notice letter mailed approximately 4 weeks in advance of the change
A reminder 1-2 weeks before implementation
What should I do if my property is within the area of modification?
Take note of the pressure modification date for your area in the communications you receive and consider doing the following before implementation:
Check that your plumbing system has a pressure reducing valve (PRV) installed
A PRV is a device that reduces and stabilizes the water pressure entering a property typically to between 50 and 80 psi, helping to protect plumbing when the pressure in the Town's water lines are higher. The NC Plumbing Code requires a PRV to be installed on private plumbing systems where the pressure in the municipal water lines serving that property exceeds 80 psi.
While interior home plumbing pipes and fittings are typically rated for pressures higher than 80 psi, home plumbing materials tend to last longer and have fewer leaks if used at lower pressures. PRVs are typically located inside the building and before any other connections on the incoming water supply line. If you have a crawlspace, the PRV may be installed just inside the foundation wall. If there is no crawlspace, the PRV may be in a closet at the front side of a residence. In a business, it is typically in an equipment room. It should be noted however that installation of a PRV inside the building does not protect privately-owned service piping outside of the structure from increased water pressure.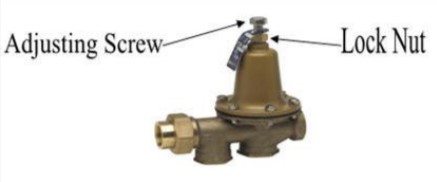 The City of Hendersonville will not be responsible for damage to your property as a result of the pressure zone modifications described above. Therefore, before the estimated project completion date (Spring 2021), we highly recommend you verify the existence, location, and proper operation of a PRV on your water service piping. If you require assistance, please consult a licensed plumber to provide you with this service.
Assess your automatic irrigation system
Automatic irrigation systems can be equipped with a PRV and, just like your property's PRV, check if it's installed, is working or is needed. Having backflow prevention does not mean your irrigation system is protected against high pressure. Consult with your irrigation contractor as needed.