Public Parking
City-owned and maintained Downtown public parking facilities:
Azalea - with one electric vehicle charging station
City Hall
Dogwood - with two electric vehicle charging stations
Maple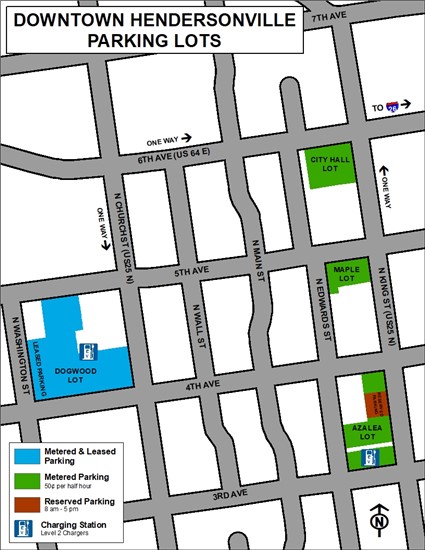 Parking fees are $.50 per half hour with no maximum time limit and there is a $2.00 minimum if you pay with a credit card. The kiosks accept US coins, dollars ($1, $5, and $10's) and credit cards. The kiosk do not provide change for over payment. Payments can be made at any kiosk within the parking lot and the receipt must be placed on the dash of the vehicle where it is visible to our parking enforcement staff. (If one form of payment is not available please choose another form of payment. For example, if the coin acceptor isn't operating properly please pay with a credit card or dollars.) If one kiosk is not working, please use another kiosk to pay for your parking.
Parking is enforced Monday-Saturday 8am-6pm
Any parking space with a reserved sign or business name sign is NOT parking for the public. These spaces have been leased exclusively by individuals and are not available to the public.
On street parking is free but there are time restrictions (as posted).