Projects
Parking Deck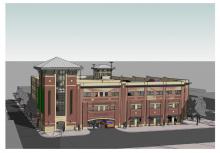 City Council has determined that a downtown parking deck is needed to provide sufficient parking in downtown Hendersonville. A 3-story (4-level) garage will be constructed at the corner of 5th Avenue and Church Street.
Project Status: Active Projects
Police Station

The Hendersonville Police Station was constructed on Ashe Street between Pace and Jonas streets in the Seventh Avenue district. The two-story, 26,000 square foot building will be paid for with a USDA Rural Development loan. This is the first time the Hendersonville Police Department has had...
Project Status: Completed Projects
WWTF Ultraviolet Disinfection Improvements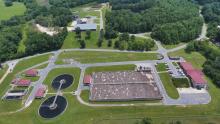 The Ultraviolet (UV) Disinfection Improvements project consists of the replacement of aging UV disinfection equipment nearing the end of its useful life at the City's Wastewater Treatment Facility (WWTF). UV disinfection is the final stage of the treatment process where wastewater is disinfected...
Project Status: Future Projects
Pages