Water and Sewer Advisory Council Establishes Public Comment Period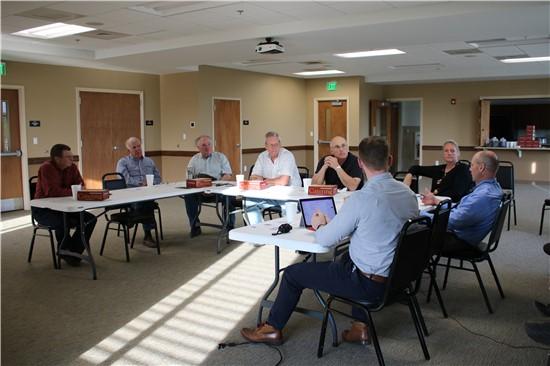 At their meeting held on April 29, 2019, the Henderson County Water and Sewer Advisory Council decided to establish a public comment period at each of their quarterly meetings. The next meeting date has been set for July 22, 2019 with location details to be determined. The hope is to schedule the July meeting in the Flat Rock area, continuing the trend of holding the advisory council meetings in various areas and municipalities throughout Henderson County.
"This Advisory Council provides a forum where all stakeholders have a seat at the table and are able to ask questions, voice concerns and give input," said City Councilman and Advisory Council Chair Steve Caraker. "These meetings provide a platform for Hendersonville Water and Sewer to be completely transparent with the board, the media and the public. During the April meeting we were all in agreement that creating the space for public comment was just another way for customers and citizens to get involved in how their utility is run no matter the jurisdiction."
Those with seats at the advisory council table are Hendersonville City Council member Steve Caraker, Henderson County Commissioner Bill Lapsley, and governing board members from Fletcher, Mills River, Laurel Park, Flat Rock and Saluda. Industry and business representatives like the Chamber of Commerce and Henderson County Partnership for Economic Development, and utility customers from inside and outside the Hendersonville city limits also have seats on the council.
The agenda during the quarterly meetings typically include timelines and updates on capital projects for the utility. There is always a portion of time set aside to allow stakeholders to provide updates or ask questions from each jurisdiction on issues related to water and sewer.
During the January meeting, a presentation was given on the City's Sewer Master Plan allowing advisory council members the opportunity to review and give feedback prior to the formal presentation to City Council. In April, Ricky Levi, Facility Manager at Hendersonville's Water Treatment Facility presented the 2018 Water Quality Report to the group followed by a detailed look at the Water and Sewer fund and budget presented by Budget Analyst Adam Murr.
"At our last meeting everyone seemed impressed and pleased with the detail and transparency contained in the budget presentation," said Steve Caraker. "It makes me proud to see the care with which our city staff operates to make sure our stakeholders know how the utility is being managed and the 'why' behind decisions that are being made."
The City of Hendersonville will make an announcement when the location and time have been secured for the July 22 meeting.