Vendor List for September 30th Hendersonville Farmers Market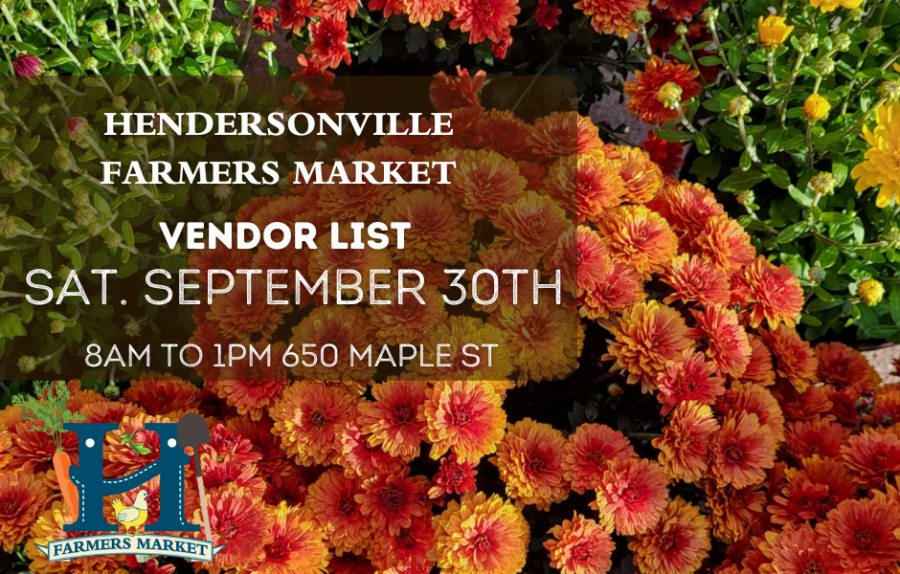 Join us for the Fall festivities at the Hendersonville Farmers Market on September 30th! Come down to Maple Street between 8 AM and 1 PM to partake in a splendid day. Discover a wide selection of locally sourced goods, delectable baked goodies, and one-of-a-kind handmade crafts from our talented vendors. Embrace the arrival of fall and become a part of this enchanting community gathering.
Live Music: Collin Cheek
JAM Tent: HUG
Kid's Corner
Farmers & Growers (produce, eggs, meat, honey, plants): Bright Branch Farms, Broom's Blooms, Black Dog Flowers , Cleveland Natural Farms, Crow Holler Produce, Gray Family Farmstead, Lanning Road Farms, Pressley Farm, Saluda Grade Farm, Stump Farms, Sylvia's Succulents, Cacti and Plants, Tiny Bridge Farm, Teacher's Farm, Wild Goods, Popp's Posies at The Popp Shoppe
Value Added Food/Drink Vendors (baked goods, fermented foods, cheese, pasta etc.): Aw Shucks Popcorn, Barnhouse Kitchen, Homemade Pasta Noodles, Raspberry Fields, ShareWell Coffee Co. & Roastery, Serotonin Ferments, Sea of Sweets Bakery, Up all Night Bottling Co., Sophia's Boutique, Bretzel Bus by Underground Baking Co.
Arts & Crafts (nonfood/nonplant): Mountain Barkery, Iris Folk Medicinal, Plated Bliss, Studio David, Kimmet's Krafts