October 7 Farmers Market Vendor List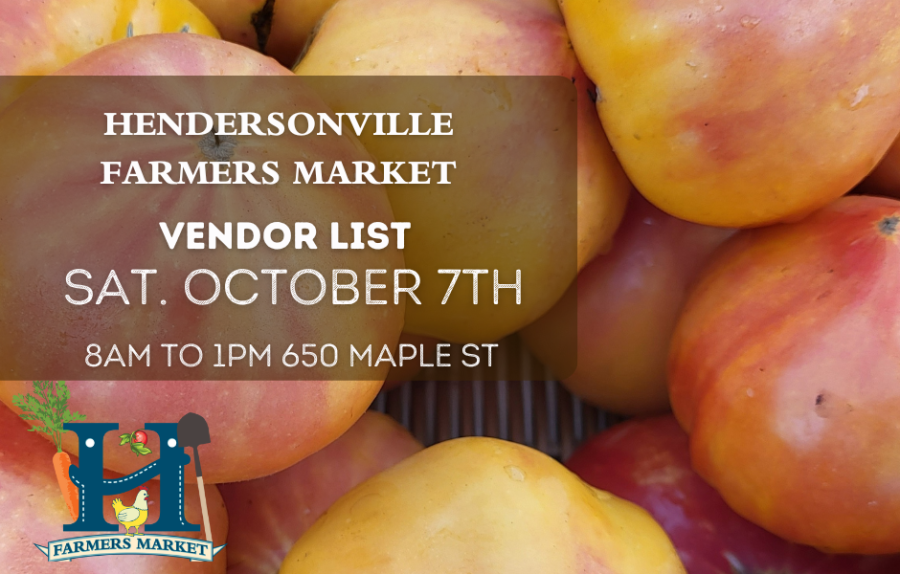 Join us for the Fall festivities at the Hendersonville Farmers Market on October 7th! Visit Maple Street between 8 AM and 1 PM to enjoy a great day. Discover a variety of locally sourced goods, delicious baked treats, and unique handmade crafts from our talented vendors. Embrace the autumn season and be a part of this wonderful community gathering.
Live Music: Raphael Morales
Kid's Corner
Cooking Demo: Karen Gaffney
Farmers & Growers (produce, eggs, meat, honey, plants): Bright Branch Farms, Broom's Blooms, Black Dog Flowers , Cleveland Natural Farms, Crow Holler Produce, Gray Family Farmstead, Saluda Grade Farm, Stump Farms, Sylvia's Succulents, Cacti and Plants, Tiny Bridge Farm, Teacher's Farm, Wild Goods, Popp's Posies at The Popp Shoppe, Ivy Fields Farm, Grow Water Farms
Value Added Food/Drink Vendors (baked goods, fermented foods, cheese, pasta etc.): Aw Shucks Popcorn, Barnhouse Kitchen, Raspberry Fields, ShareWell Coffee Co. & Roastery, Sweet Brine'd, Sea of Sweets Bakery, Up all Night Bottling Co., Bretzel Bus by Underground Baking Co., Mimi Mountain Mixes
Arts & Crafts (nonfood/nonplant): Mountain Barkery, Michael Blake Baskets, Best Friends Creations, Double Cross Crochet, Mother Hubbard, Plated Bliss, JCP Pottery, Eli Tomalka Woodworks, Dragon Metal Studio and Sage and Spirit
Young Entrepreneur: Rachel's Scarves
Hendersonville Farmers Market takes place every Saturday (May 6-Oct 28) at the Historic Train Depot on 650 Maple Street, 8am-1pm.