NeighborWoods Program Expands to Wolf Chase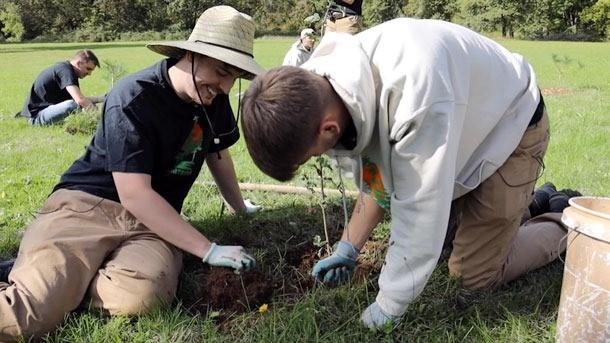 As Wolf Chase Residents Prepare for a New Development Next Door, They Plant Trees
Residents of Wolf Chase, a subdivision on U.S. 64, east of downtown Hendersonville, are planting trees in preparation for a new development being built on its border. The Wolf Chase Homeowners Association has requested 19 trees, supplied through the City's NeighborWoods program, which will be delivered for planting on or about March 30. Hendersonville Tree Board manages the NeighborWoods program, which provides trees at no cost to homeowners who have agreed to plant, maintain, and care for the trees so they will thrive and increase the urban-forest tree cover in the City. User-friendly information on how to properly dig the hole, amend it, and plant the new trees to increase the chances of success is provided. Among the trees to be planted at Wolf Chase this spring are redbuds, dogwoods, willow oak, maple, Southern magnolia, and hawthorne.
"The wooded hillside near Wolf Chase will soon be developed, so residents are planting trees to help screen construction, assist with erosion control, provide wildlife habitat, and protect air quality," said Mac Brackett, chair of the Tree Board. "We welcome friends and neighbors across Hendersonville to use the benefits of the NeighborWoods program. Trees are an investment in the community, important for the landscape, for air and water quality, for wildlife, and for the health and well-being of future generations."
Nearly 400 trees have been planted in Hendersonville neighborhoods and historic districts, along thoroughfares, and at businesses through the NeighborWoods program since 2010, including fruit and nut trees, flowering trees, and numerous pollinator plants and shrubs.
Trees provided in the NeighborWoods Project are purchased with money from the Tree Board's budget, which is funded by Hendersonville City Council. The Tree Board has established the Hendersonville Tree Board Fund at the Community Foundation of Henderson County to accept donations to support and increase the tree-planting program. The Tree Board encourages residents to plant and maintain trees, shrubs, and pollinator-friendly plants for health, beauty, wildlife, and to increase our urban forest coverage
To learn more about the NeighborWoods Project and how individuals and organizations can participate, or to make a donation to the Hendersonville Tree Board Fund, visit the Tree Board website at www.hvlnc.gov/neighborwoods-projects. Or email treeboard@hvlnc.gov.