Neighbors in a Historic Downtown Neighborhood Are Planting New Trees for Future Generations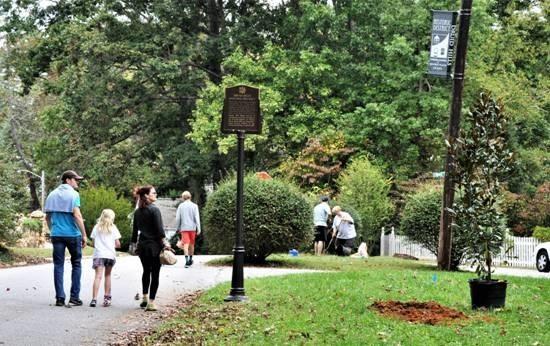 Neighbors in the Higate Road section of Druid Hills, one of the City's oldest neighborhoods, will receive trees at 10 a.m. on Saturday, October 16, which they will plant at their homes. Nearly 20 trees, paid for and provided by Hendersonville Tree Board at no cost to homeowners, will be distributed to those who signed up to participate in its NeighborWoods Project. The residents agreed to plant, maintain, and care for the trees so they will thrive and increase the urban-forest tree cover in the City. User-friendly information on how to properly dig the hole, amend it, and plant the new trees to increase the chances of success has been provided. Student volunteers from Hendersonville High School will be on hand to help carry, lift, and distribute the trees, and the City's Pubic Works Department, is supplying bags of mulch and amendments to ensure the new trees will thrive. A rain-date is set for October 23.
"We're happy to add trees to our historic Druid Hills neighborhood to help fill in where old ones have been lost," said Glenn Lange, a member of the Tree Board. "We welcome friends and neighbors across Hendersonville to use the benefits of our NeighborWoods program. Trees are important for the landscape, for air and water quality, for wildlife, and for the health and well-being of future generations."
More than 200 trees have been planted in Hendersonville through the NeighborWoods program since 2010, including fruit and nut trees, flowering trees, and numerous pollinator plants and shrubs.
Trees provided in the NeighborWoods Project are purchased with money from the Tree Board's budget, which is funded by Hendersonville City Council. The Tree Board has also established the Hendersonville Tree Board Fund at the Community Foundation of Henderson County to accept donations from those interested in supporting the tree-planting program. The funds will be used to purchase more trees to plant in yards, at businesses, in neighborhood green spaces, and where needed. The Tree Board aims to assist residents to plant and maintain trees for health, beauty, wildlife, and to increase our urban forest coverage
To learn more about the NeighborWoods Project and how individuals and organizations can participate, or to make a donation to the Hendersonville Tree Board Fund, visit the Tree Board website.