Laurel Park and Hendersonville Water System Merger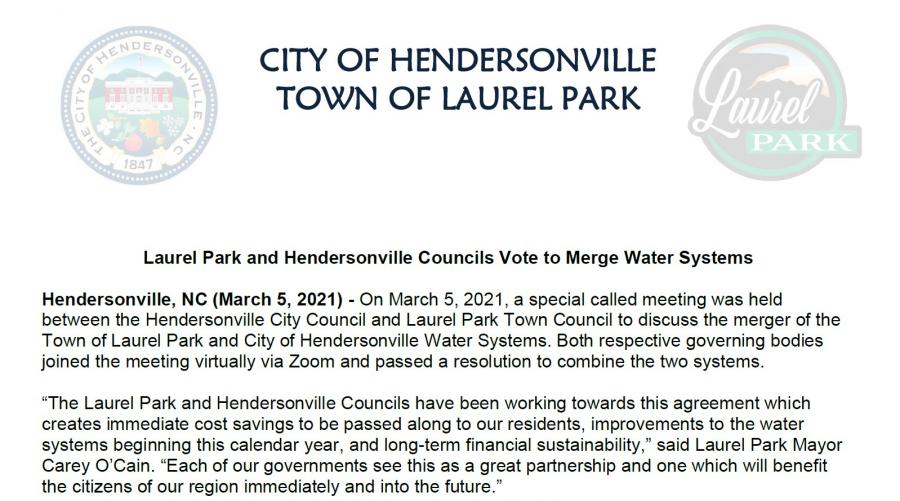 On March 5, 2021, a special called meeting was held between the Hendersonville City Council and Laurel Park Town Council to discuss the merger of the Town of Laurel Park and City of Hendersonville Water Systems. Both respective governing bodies joined the meeting virtually via Zoom and passed a resolution to combine the two systems.
"The Laurel Park and Hendersonville Councils have been working towards this agreement which creates immediate cost savings to be passed along to our residents, improvements to the water systems beginning this calendar year, and long-term financial sustainability," said Laurel Park Mayor Carey O'Cain. "Each of our governments see this as a great partnership and one which will benefit the citizens of our region immediately and into the future."
Some of the benefits of merging the two water systems include:
Cost saving for Laurel Park residents due to lower Hendersonville water system rates.
Upgrade to automatic meter reading for Laurel Park customers.
Access to AquaHawk alerting and water leak detection for Laurel Park customers.
Immediate investment in the system's infrastructure to improve pressure and fire flow.
Over $1M in improvements to the Laurel Park section of the system within the first 24 months of the transfer.
Increased and more reliable water pressure to the Hebron pressure zone.
"This merger is a shining example of government working to achieve solutions that best serve our community," said Hendersonville Mayor Barbara Volk. "I take great pride in both our Councils and staff who have been innovative with their solutions and cooperative in their decision making. This collaboration improves the utility system for, not only residents of Hendersonville but our neighbors and customers outside our city limits."
The physical merger of the two systems is expected to begin in Spring of 2021.