Hispanic Heritage Day September 16th Hendersonville Farmers Market Vendor list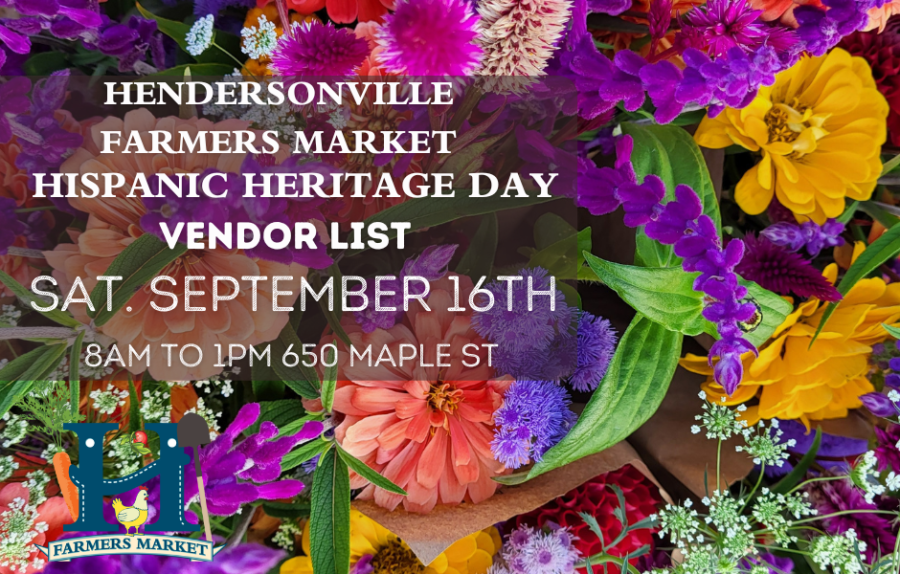 The Hendersonville Farmers Market will host Hispanic Heritage Day on September 16th, 2023, from 8:00 AM to 1:00 PM. This vibrant event will showcase the rich cultural tapestry of the Hispanic community, offering a special market filled with food, music, and cultural activities. In addition to what you'll find every week at the Hendersonville Farmers Market.
Live Music: Apple County String Band
Kid's Corner and Jam Tent: True Ridge
Hispanic Heritage Cooking Demo: Abigail Pierce
Hispanic Heritage Day Vendors: True Ridge, Sophia's Boutique
Farmers & Growers (produce, eggs, meat, honey, plants): Barry Farms, Bright Branch Farm, Broom's Blooms, Black Dog Flowers, Cleveland Natural Farms, Crow Holler Produce, Gray Family Farmstead, Honeybee Bliss, Lanning Road Farms, Milkweed Meadows Farm, Newman Farm, Popp's Posies at The Popp Shoppe, Pressley Farm, Saluda Grade Farm, Stump Farms, Sylvia's Succulents, Cacti and Plants, Tiny Bridge Farm, Teacher's Farm, Ivy Field Farms
Value Added Food/Drink Vendors (baked goods, fermented foods, cheese, pasta etc.): Aw Shucks Popcorn, Barnhouse Kitchen, Deena's Bakery, Homemade Pasta Noodles, Raspberry Fields, Sophia's Boutique, ShareWell Coffee Co. & Roastery, Bretzel Bus by Underground Baking Co., Sea of Sweets Bakery, Mimi's Mountain Mixes , Up all Night Bottling Co.
Arts & Crafts (nonfood/nonplant): Eli Tomalka, Plated Bliss, Studio David, Mother Hubbard
Sponsor: Wag! A Unique Pet Boutique
Non Profits: Council on Aging of Buncombe, Habitat For Humanity