City of Hendersonville Live Staking Event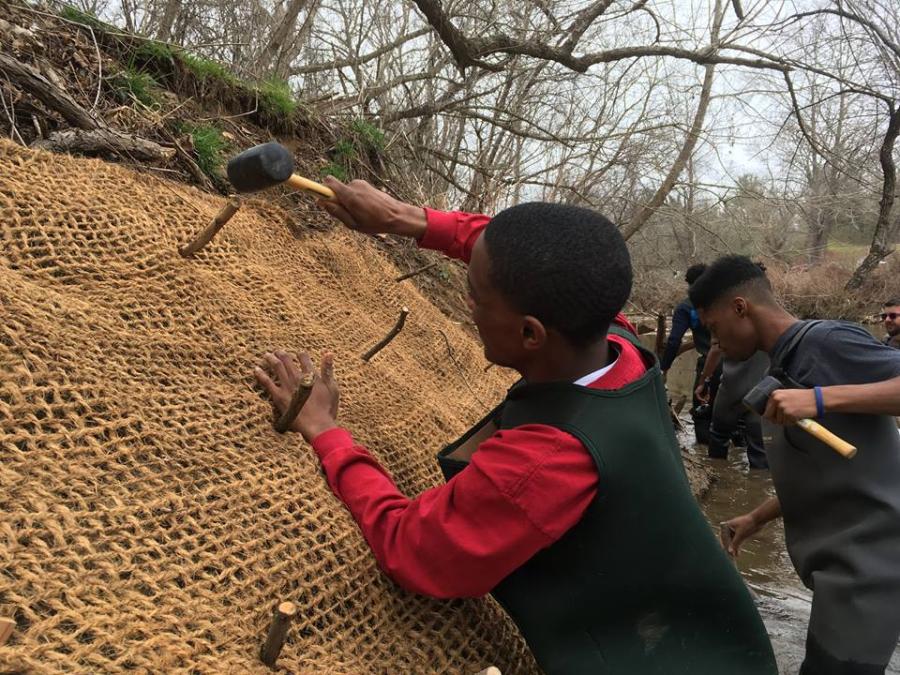 The City of Hendersonville's Stormwater Division and MountainTrue invite the community to join a live staking event to help protect Brittain Creek and improve local water quality. This interactive volunteer opportunity will take place on February 7, 2023, at 10:00 AM in Brittain Creek between Patton Park and Mud Creek.
"MountainTrue and The City of Hendersonville are combating sediment erosion in our local waterways," said the City of Hendersonville's Stormwater Division Manager Michael Huffman. "Events like this are a fun way for the community to spend a couple of hours making a big impact on the water quality in our area." Huffman explained that sediment is a major polluter in the local river basin, clogging fish and aquatic habitats, increasing water temperatures, and transporting toxic substances.
"We are helping to reduce the amount of sediment that flows into our rivers by planting live-stakes along eroding riverbanks," said Huffman. "These stakes will grow into trees that will stabilize the sides of the rivers and creeks where we plant them and will reduce the overall amount of sediment getting into the river. So, come hop in the creek and help us reduce erosion along our local rivers!"
City of Hendersonville Live Staking Event
When: February 7th, 2023, 10:00 AM – 1:00 PM
Where: Brittain Creek between Patton Park and Mud Creek
Meeting Location: Patton Park 99 E. Clairmont St.
Required Materials: Warm clothes, closed-toe shoes and waders if you have them (City will have 8 pairs of waders for participants).
Interested volunteers need to fill out the form at https://www.hendersonvillenc.gov/news/city-hendersonville-live-staking-event
Development, agriculture, and a variety of other disturbances can often lead to unhealthy streams because they remove plant life along streams and increase flow of water. Stream banks that experience these disturbances are often left bare and without a strong root mass in the soil. Without plants and roots, soil particles are more likely to wash away during high waters, heavy rains, and rapid snow melts. This leads to a number of undesirable results including sediment pollution in the water, loss of land, and deeply channeled streams.
Live Staking is a practice, which reintroduces plant life directly in the places that need it most, the stream banks. It has a low cost and is something that landowners can do easily on their own property. Stem cuttings taken from trees during their dormant season (before the buds break in the spring) are inserted directly into stream banks. These cuttings, referred to as "live stakes," will eventually grow into new trees and are an effective way to establish a root network in the stream banks and help prevent further soil loss.