Census Job Recruitment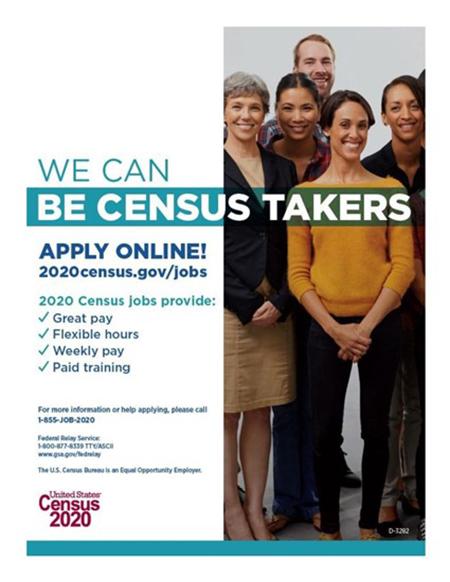 Earn extra income while helping your community. Apply today.
The U.S. Census Bureau is recruiting to fill hundreds of thousands of positions across the country to assist with the 2020 Census count. There is a goal to hire 1,153 people throughout Henderson County.
The U.S. Census Bureau invites anyone to apply, including:
Retirees.
College students.
People who do not have a job and are looking for temporary employment.
People already working who are looking for a second job.
People available to work flexible hours, which can include days, evenings, and/or weekends.
These positions provide an opportunity to earn extra income while helping the community. Pay rates vary depending on the applicant's location. The pay rate in our area is $17 an hour and .58 cents a mile driven. Supervisors will make $18.50 an hour.
How to Apply
Interested individuals can apply for a 2020 Census job by visiting 2020census.gov/jobs and completing an online application. The process takes about 30 minutes and will include assessment questions about the applicant's education, work history, and other experiences. Those who would like to claim veterans' preference will need supporting documentation. For more information, call 1-855-JOB-2020 (1-855-562-2020) and select option 1 for technical assistance or option 3 to speak with someone at your area census office.
Census takers will be able to work a flexible schedule of 20 to 40 hours a week. Ideally they will work a couple hours in the evenings and a few hours on the weekends when people are usually home. Applicants should apply now to be considered. Most of the hiring will start in March 2020, and the job will last about 8 weeks. Ideally, census workers count their own neighborhoods.
Who Can Get Hired?
To be eligible for a 2020 Census job, applicants must:
Be at least 18 years old.
Have a valid Social Security number.
Pass a Census Bureau-performed background check and a review of criminal records, including fingerprinting.
For a complete list of qualifications, we invite you to visit 2020census.gov/jobs.