Celebrating the Annual Monarch Migration during September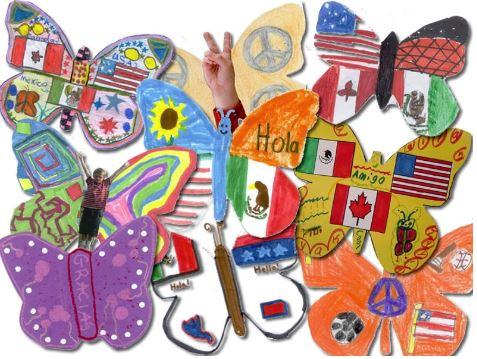 Mid-September through early October is the best time to watch for migrating monarch butterflies in our area. To celebrate this wondrous natural phenomenon, two educational programs are being hosted in Hendersonville, sponsored by Hendersonville's Bee City USA program. Estela Romero, international monarch expert and educator from the town of Angangueo in Michoacán, Mexico, will be visiting to present a program at Bullington Gardens on September 22, and a program is offered for classroom use, homeschoolers, individuals, and groups interested in participating in the international celebration of the Symbolic Monarch Migration program. In March, the City of Hendersonville committed to saving the monarch butterfly and other pollinators with the signing of the Mayors' Monarch Pledge to continue to engage residents in building more pollinator habitat throughout the city.
A Monarch's Journey: From NC to Mexico and Back
Thursday, September 22, 2 – 3:30 PM
Presented by: Bee City USA – Hendersonville (a City program managed by Bullington Gardens), Symbolic Monarch Migration, and Milkweed Meadows Farm
Estela Romero, monarch educator and journalist who works in the overwintering sanctuaries near her home in Angangueo, Michoacán, Mexico, and Kim Bailey, local educator and farmer/owner of Milkweed Meadows Farm in Fruitland, NC, will present up-close and personal views of the monarch's remarkable life cycle and epic migration. Kim and Estela will share their knowledge of these winged wonders on the journey from Mexico to NC and back again. Participants will also learn how to invite monarchs into their gardens by planting a succession of nectar-producing native flowers throughout spring, summer, and fall.
Audience: All ages.
Location: Bullington Gardens, 95 Upper Red Oak Trail, Hendersonville
Cost: $20
Registration: Call 828-698-6104 to register or register online.
Symbolic Monarch Migration to Mexico
Mid-September to Friday, October 7
Presented by: Bee City USA - Hendersonville (a City program managed by Bullington Gardens), City of Hendersonville Mayor's Monarch Pledge, and Milkweed Meadows Farm
From the Hendersonville area, the monarch migration is an epic journey to Mexico covering at least 2,000 miles. Like clockwork, the first migrating monarchs typically reach their overwintering habitats high in the mountains of central Mexico by the first of November. To celebrate this amazing feat, more than 25,000 children from across the United States and Canada will participate in the 27th annual Symbolic Monarch Migration by creating paper butterflies to send to Mexico for the winter. Local classrooms, youth organizations, and individual students are invited to join them. These symbolic butterflies will correspond with the living monarchs' actual journey south … and as the real-life monarchs arrive in Mexico for the winter, the symbolic butterflies will be delivered to schools in the monarch sanctuary region. Sometime in spring after the living monarchs' departure from Mexico, groups of paper butterflies will also return north, carrying special messages from the students in Mexico. United by the monarch butterfly, children across North America learn authentic lessons of conservation, cooperation, and ambassadorship.
Audience: Children of all ages. Participate as a group (classroom or other group of youth) or as an individual.
Cost: No charge. (Funds from Bee City USA - Hendersonville make it possible for Henderson County classrooms and youth organizations to participate at no charge.)
How to participate: Visit the Bullington Gardens website for complete details. The deadline to submit symbolic/paper butterflies is Friday, October 7, 2022.