Brooklyn Creek Sign Reveal & Community Celebration at Sullivan Park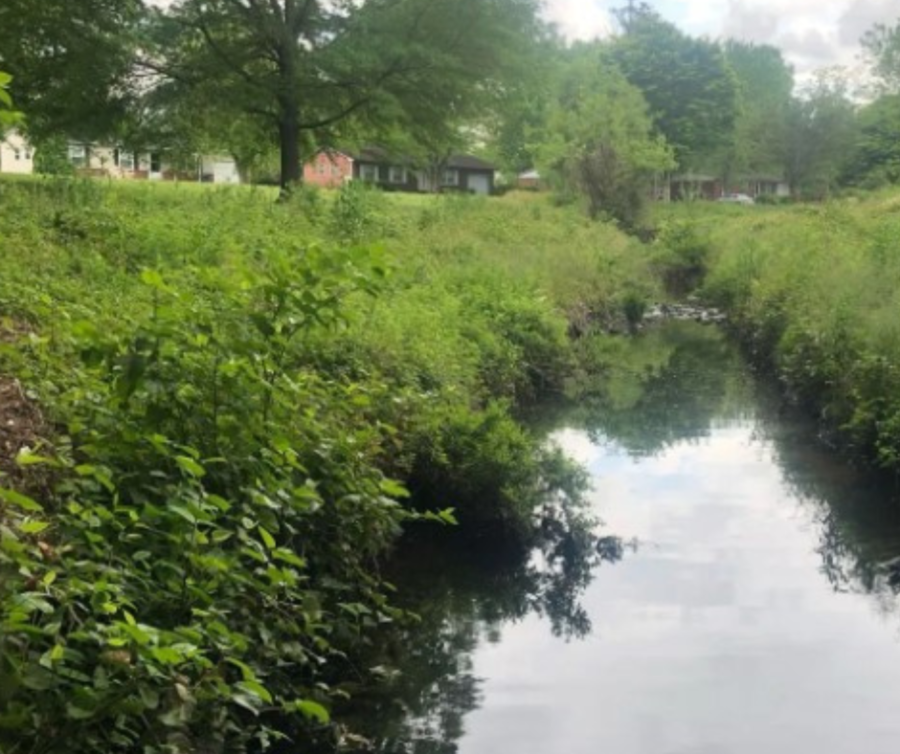 In an exciting endeavor aimed at rejuvenating the local ecosystem and celebrating the rich history of the Green Meadows community, the City of Hendersonville is thrilled to announce the upcoming community event to celebrate the installation of the Brooklyn Creek sign and the launch of the Stream Restoration Project in Sullivan Park.
Join collaborators at a ceremony and community celebration on September 9, 2023, starting at 11:00 AM in Sullivan Park located at 712 Martin Circle in Hendersonville followed by a community celebration.
This exciting initiative, a collaborative effort between the City of Hendersonville Stormwater Division, RiverLink, Jennings Environmental, NC Department of Environmental Quality, Community Foundation of Henderson County, and community members, marks a significant step forward in preserving and enhancing the vitality of the beloved Sullivan Park.
Brooklyn Creek, an integral waterway woven into the fabric of the community, has long been a source of enjoyment and relaxation. However, urbanization and environmental challenges have taken their toll on this cherished creek.
"The Stream Naming and Restoration Project is a testament to our shared commitment to restore the creek's health and ensure a flourishing habitat for future generations while honoring the history of the vibrant Brooklyn community," said Stormwater Division Manager Michael Huffman.
The Stream Naming project was completed through a partnership between community members, the City of Hendersonville Stormwater Division, the Community Foundation of Henderson County, and RiverLink, a local environmental non-profit. Riverlink's' "Name That Creek Program" aims to connect communities to their local waterways and to lead to good stewardship of the natural resources while also providing an opportunity to recognize and remember a community's history. The name "Brooklyn Creek" was chosen by community members as a way to honor the vibrant past of the historic Brooklyn community that once thrived in the area around the creek.
The Stream Restoration project will encompass a comprehensive restoration plan, including habitat enhancement, water quality improvements, and the revitalization of the surrounding ecosystem. Native plantings, channel improvements, and sustainable landscaping techniques will be employed to create a balanced and thriving environment. Sullivan Park visitors will soon be able to witness the transformation of Brooklyn Creek into a haven of biodiversity and natural beauty.
In addition, participants will hear an update on the Brooklyn Community Garden Revitalization & Expansion project. Originally constructed in 2017 as a partnership between Hendersonville and dedicated community members, the garden recently received two grants totaling $50,000 from the Community Foundation of Henderson County and Healthy Babies Bright Futures.
To kick off this transformative journey, a community event will take place on September 9th at 11:00 am at Sullivan Park. This event will feature the reveal of the new Brooklyn Creek educational sign, a presentation and interactive discussion about the stream restoration project, followed by a community celebration with performers, food trucks, local vendors, and entertainment for all ages.
The City of Hendersonville invites residents, families, community members, and media representatives to join us in this celebratory event, which symbolizes a united stride toward a greener and more resilient future. This project wouldn't be possible without the generous support of the NC319 and Water Resource Development grant programs, community members, project partners, and volunteers who recognize the significance of preserving our natural heritage.
"As we embark on this inspiring journey of renewal, the Brooklyn Creek Stream Naming and Restoration Project will undoubtedly serve as a shining example of community collaboration, environmental responsibility, and the enduring connection between people and nature," said Stormwater Division Manager Michael Huffman.