Pollinator Events
Pollinator Trail
Ongoing Self-Guided Tour
Presented by: Bee City USA - Hendersonville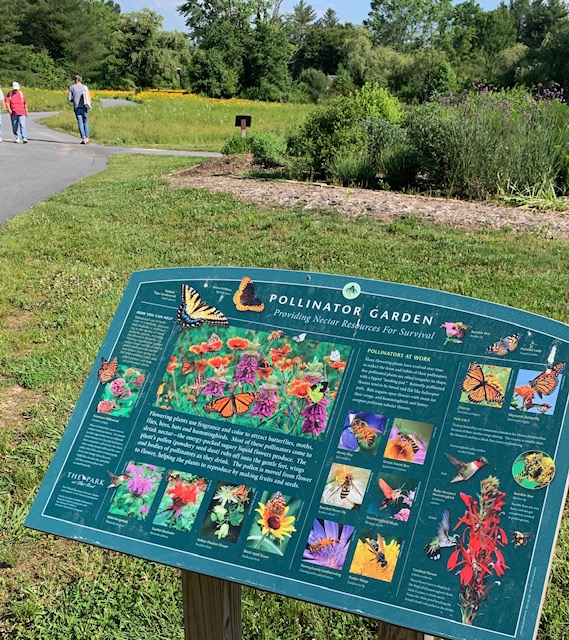 Use the new Pollinator Trail as your guide to eco-friendly gardens, green spaces, farms, and other local destinations that highlight the importance of bees, butterflies, and other pollinators and plan your own adventure!
Locations: Multiple locations throughout Henderson County
Audience: All ages
Cost: Free!
Final Call for Bee Mural Sponsors
Now – June 30
Through many "Bring the Hive Alive!" fundraising events, donations, and sponsorships, over $35,000 was raised to bring the bee mural and adjoining pollinator gardens to life in downtown Hendersonville! Over 60 local businesses, organizations, and individuals made sponsor-level donations and will be recognized on the permanent plaque to accompany the mural, in the culminating video documenting the project, and online. If you'd like to join this group as a mural sponsor, please do so by June 30, 2021 by visiting https://handsonwnc.org/hive or contacting beecityhendersonville@gmail.com. Additional donations will be used to expand the demonstration pollinator gardens, provide educational outdoor signage at the mural site, and provide for future care/maintenance of the mural.
Cost: Sponsorship levels include Buzz Makers ($250), Nectar Gatherers ($500), Pollen Foragers ($1000), Comb Builders ($2,500), and Honey Makers ($5,000+).
Pollinator Inspired Tea Time
Tuesdays – Saturdays in June, bookings available between 11:30 AM - 1:30 PM
Presented by The Book and Bee Café and Tea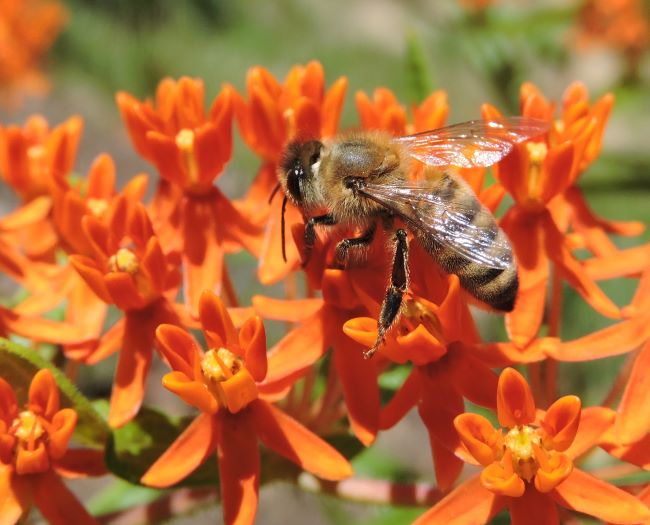 This special pollinator-themed tea features sweet and savory treats that nod to different pollinators and flowers.
Location: The Book and Bee Café and Tea, 795 Mountain Road, Hendersonville, NC 28791
Audience: all ages
Cost: $25 per person for adults, $10 for kids
Registration: Reservations are necessary; call 828-845-4242.
Pollinator Day at Hendersonville Farmers Market
Saturday, June 5, 8:00 AM -1:00 PM
Presented by Hendersonville Farmers Market & Bee City USA – Hendersonville
To kick off Pollinator Month, the Hendersonville Farmers Market is hosting Pollinator Day! You'll find the regular bountiful harvest from all the market vendors plus some special treats to celebrate pollinators. Pollination truly is responsible for the beauty and abundance of the plant world. What better way to spend the day than appreciating the people and pollinators working together to produce the splendid flowers and fruits that feed us in so many ways?! Visit Hendersonville Bee City USA's booth to pick up free packets of pollinator-friendly seeds (while supplies last) as well as tips for planting gardens to provide healthy habitats for bees, butterflies, hummingbirds, and other pollinators. The Henderson County Master Gardeners will also be available to answer your pollinator gardening questions. Kids are invited to make their own pair of bee, butterfly or other pollinator antennae then set off on a scavenger hunt to find as many local foods produced with the help of pollinators as they can. Fun prizes will be awarded to all scavenger hunt foragers! Other vendors scheduled to participate in this special day at the market currently include Mickey Lively Plant Nursery, Honeybee Bliss, Spriggly's Beescapting, Bee-utiful Farm and Garden, and Loretta Zedella's Butterfly Flight Yoga. Live music, the kids' zone, a chef demo, and a food truck will also be part of the day's festivities.
Location: Historic Train Depot, 650 Maple Street, Hendersonville
Audience Served: All ages
Cost: Free! Local honey, pollinator-friendly plants, fresh produce, etc. available for sale.
Sunday Brunch Market at Sideways Farm & Brewery
Sunday, June 6 & 20, 12 PM - 3 PM
Presented by Sideways Farm & Brewery, Milkweed Meadows Farm, Bee Masters Farm
Through utilizing homegrown ingredients from their own farm and other local farms, buying local honey, restoring soils, and donating 100% of all tips, Sideways Farm & Brewery is local business that gives back to the community. Sideways is also one of just a few breweries in the nation using honey instead of corn sugar to add carbonation to their bottles of small batch artisan brews. On the first and third Sundays during Pollinator Month, additional vendors will be onsite offering pollinator-friendly plants for your garden, local honey, and more.
Location: Sideways Farm & Brewery, 62 Eade Rd. (off Old Hwy. 64), Etowah
Audience Served: all ages
Cost: Free! Artisanal beer and jun, fresh flowers, local honey, pollinator-friendly plants, food, etc., available for sale.
Gardens That Matter Pollinator Gardening Series
Sundays, June 13, 20, & 27, 7:00 – 7:45 PM + online access during June
Presented by Gardens That Matter
This educational package includes three live online classes (June 13, 20, 27) on the topics of gardening for butterflies, native bees, and hummingbirds; access to the "How to Grow a Pollinator Café" series of 7 streaming video lessons; downloadable workbook for planning your own pollinator garden; and one-month of complimentary membership in the Gardens That Matter community.
Location: Online via Zoom and gardensthatmatter.com
Audience Served: Adults
Cost: $25 (50% will go to the Symbolic Monarch Migration, a program with a 25-year history of engaging children in Canada, USA, and Mexico in learning authentic lessons of conservation and cooperation.)
Registration: Register online.
Home Gardening Series: Gardening for Pollinators in Western North Carolina
Wednesday, June 17, 6:30 – 8:30 PM
Presented by Henderson County Extension
Butterflies, bees, and green lacewings are just a few of the insects that benefit humans. In this online class in the Home Gardening Series you will learn how to identify pollinating insects in the landscape and vegetable garden. You will also learn which plants feed, shelter, and provide habitat for pollinating insects. Also, you will learn how to build a pollinator house! Pesticide use can harm beneficial insects so we will learn how to control bad insects with non-pesticide techniques. Steve Pettis, Henderson County Commercial and Consumer Horticulture Agent and host of the Gardening in the Mountains radio show will teach you how to care for our pollinating friends!
Audience: Adults
Cost: $10 per person class due one week prior to class start. Cash or check only (make checks out to N.C. Cooperative Extension of Henderson County; mail to 100 Jackson Park Road, Hendersonville, NC 28792)
Registration: Register by calling 828-697-4891 or emailing steve_pettis@ncsu.edu.
Gardening in the Mountains Radio Show Celebrates Pollinator Week!
Saturday, June 19, 8:00 AM
Presented by Gardening in the Mountains Radio Show, North Carolina Cooperative Extension, WTZQ
Join host Steve Pettis from the North Carolina Cooperative Extension every Saturday at 8 AM for Gardening In The Mountains and he'll help make your garden grow better! This week's show will be dedicated to beneficial and pollinating insects. Learn how to provide food, shelter and water for our six-legged friends. As always, if you have a question for Steve, send him an email at: gardeninginthemountains@gmail.com. You can also listen to past episodes online anytime.
Location: Tune in on WTZQ Radio AM 1600 / FM 95.3 or listen live online
Build a Bee House for Pollinator Month
Friday, June 25, 10 AM – 12 PM
Presented by Conserving Carolina
Join Conserving Carolina's AmeriCorps members for a fun morning of making native bee houses and learning about the importance of bees in the pollinating world! Stations will be set up at the pavilion at Berkley Mills Park. Frames will be premade and several options for plant material tubes will be provided. We will be following Conserving Carolina's Phase 3 COVID-19 standards including hosting groups no larger than 20 participants, physical distancing of 6 ft+ between every volunteer, and wearing face masks when around the group.
Location: Berkley Mills Park – 69 Balfour Rd. Hendersonville, NC 28792
Audience Served: Ages 7 & Up. Children will need an adult present.
Cost: Free! (RSVP required)
Registration: RSVP online.
What to bring: Face mask, Dress for the weather (we will be outside), Blanket to sit on (optional)
More Pollinator Month Events in WNC!
Multiple Dates, June
Presented by Bee City USA Asheville and Event Partners
Check out our neighbors, Bee City USA Asheville, for even more online and local WNC pollinator events!
Bee Bold Pollinator Festival
Saturday, August 21, Times TBA
Presented by Bold Rock Hard Cider
Join Bold Rock Hard Cider on National Honey Bee Day to celebrate the 3rd Annual Bee Bold Pollinator Festival! Honey bees are the world's most important pollinator of food crops, making them a crucial member of our community. No bees, no Bold Rock! Other pollinators assist in bringing one out of every three bites to food to our plates as well as enabling wild plants to set fruit and produce seeds. Bee Bold festivities will include live music, honey tastings, observation bee hive, pollinator presentations, vendors/exhibitors, crafts for kids, and the always popular unveiling of a special Bold Rock cocktail. The Bold Bites food truck onsite for delicious outdoor dining.
Location: Bold Rock Mills River Cidery, 72 School House Rd., Mills River
Audience Served: all ages
Cost: Free!