Pollinator Events
It's always a great time to learn more about why you need pollinators and how pollinators need you! Bee City USA – Hendersonville, along with our partners, are pleased to present the next series of pollinator education events. You may also keep up with the latest news and events by liking our Bee City USA - Hendersonville Facebook page and following our Bring the Hive Alive! initiative to paint a bee mural in downtown Hendersonville.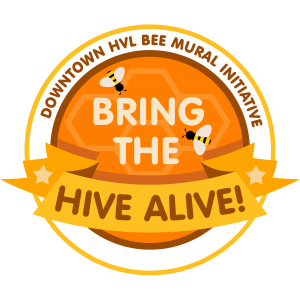 Bring the Hive Alive! Downtown Bee Mural Initiative
Ongoing
Presented by: Bee City USA – Hendersonville and Hands On! Children's Museum
Bee City USA - Hendersonville is thrilled to be partnering with Hands On! Children's Museum, local businesses, organizations, and community members to bring The Good of the Hive to paint a BEEautiful bee mural in the heart of downtown Hendersonville. In addition to the many benefits provided by public art, the mural will help draw attention to the importance of pollinators and inspire actions to help sustain healthy ecosystems. Learn more or make a donation to support this community-wide effort at www.handsonwnc.org/hive. Donor rewards for contributions of $25 and up include: honey bee window cling, The Good of the Hive sticker, BeeKind sticker, 2 oz. jar of local honey, AND $20 coupon from B.B. Barns The Garden Company. A coupon for enrollment in the "How to Grow a Pollinator Café" online course is added for donations of $50+. Bee mural sponsorship opportunities starting at $250 are also available.
Location: Exterior wall of the Hands On! building (in the Azalea Public Parking Lot), between N. Main Street and King Street, facing Third Ave. E.
Questions: Please email beecityhendersonville@gmail.com or call the Museum at 828-697-8333, ext.223.
Canceled:
Conserving Carolina Speaker Series: Fabulous Flies, Beneficial Beetles, and Wonderful Wasps – Appreciating Pollinator Diversity
Presented by: Conserving Carolina
Saturday, March 14, 10:30 AM - 12:00 PM
"Save the Bees!" is a common conservation refrain. But, what about the rest of the numerous, diverse, and tireless pollinators who are not as well known? In this presentation, entomologist Dr. Gretchen Pettis will give you a new appreciation for the native pollinators that grace our gardens and enrich our environment. Learn how creating a layered, diverse landscape can offer habitat and food to pollinators and a beautiful retreat for you. Ecological enrichment of urban and suburban gardens is being recognized as a powerful approach to conservation and is a proven way to encourage flower-visiting aerial insects that can delight and amaze us.
Location: Anne Elizabeth Suratt Nature Center at Walnut Creek Preserve, 179 Wood Thrush Lane, Mill Spring
Audience Served: Adults
Cost: Free
Registration: None required
Canceled:
Ay Mariposa Film Screening & Community Discussion
Presented by: Heather Rayburn of MonarchLover.org and Sponsors
Thursday, March 26, 6 - 8 PM
The critically acclaimed film "Ay Mariposa" tells the true story of two women and a rare community of butterflies standing on the front lines in a battle against the US-Mexico border wall where the wall construction is devastating wildlife and human communities. Heather Rayburn of MonarchLover.org will host the event, which is sponsored by the Student Environmental Center at UNC-Asheville, the Western North Carolina Sierra Club, Asheville GreenWorks (Bee City USA - Asheville), Nuestro Centro, Hermanxs Orgullosxs en las Américas at UNC-Asheville, Elisha Mitchell Audubon Society, Carolina Natives Nursery, and Mountain WILD.
Location: Reuter Center (Manheimer Room), UNCA Campus, 1 University Heights, Asheville
Audience Served: Adults
Cost: Free admission. Donations welcome.
Registration: Please register online
Early Spring Ephemeral Flowers
Thursday, April 16, 6:30 - 8:30 PM
Presented by: NC State Cooperative Extension - Henderson County Center
Steve Pettis, Horticulture Extension Agent, will teach about spring ephemeral flowers such as bloodroot, trilliums, trout lilies, fire pinks, and others. These little flowers emerge from forest floors in late winter and disappear in early summer.
Location: NC State Cooperative Extension - Henderson County Center, 100 Jackson Park Rd., Hendersonville
Audience Served: Adults
Cost: $20.00 per person *cash or check only* (make checks out to NCCE and mail to 100 Jackson Park Road, Hendersonville, NC 28792)
Registration: Call 828-697-4891 or print and mail registration form
Conserving Carolina Speaker Series: Creating a Native Pocket Meadow
Presented by: Conserving Carolina and WNC for the Planet
Tuesday, April 28, 6:00 - 7:30 PM
"Pocket" meadows of native plants provide an attractive, low-maintenance, and wildlife-friendly alternative to traditional perennial plantings. Unlike larger meadow plantings, small, informal, and simply managed pocket borders can be tucked into a variety of spaces in your landscape, providing habitat and sustenance for pollinators and other insects, as well as being attractive landscape additions. Plant ecologist Lisa Wagner will share her experiences with a variety of small meadow plantings using native Southeastern wildflowers and grasses and talk about how to manage them for four-season interest. She'll also provide suggestions for native plants best suited for combining in informal meadow plantings in the western Carolinas.
Location: Landrum Library, 111 Asbury Dr., Landrum, SC
Audience Served: Adults
Cost: Free
Registration: None required
Garden Jubilee Booth (Free Seeds!)
Presented by: City of Hendersonville Environmental Sustainability Board & Tree Board
Saturday, May 23 & Sunday, May 4, 9 AM -5 PM
All Garden Jubilee festival attendees are invited to stop by the "Bee City USA – Hendersonville" booth (located in the new educational area between the Garden Talks stage and the Visitor's Center). Pick up free packets of pollinator-friendly seeds (while supplies last) as well as tips for planting gardens to provide healthy habitats for bees, butterflies, hummingbirds and other pollinators. Check out the live observation bee hive! Plus, shop for a plethora of pollinator-attracting plants, rain barrels, local honey, eco-friendly gear, and other items to Bee Green, Bee Delicious, Bee Sustainable, and Bee Awesome! Proceeds will benefit the "Bring the Hive Alive!" initiative paint a bee mural on the exterior wall of Hands On! Children's Museum in the heart of downtown Hendersonville. Learn more about supporting pollinators and capturing rainwater during our Garden Talks (schedule TBA), too!
Location: Garden Jubilee Educational Center, Visitors Center Parking Lot (corner of S Main St. and Barnwell St.), Hendersonville
Audience Served: All ages
Cost: Free!
Registration: None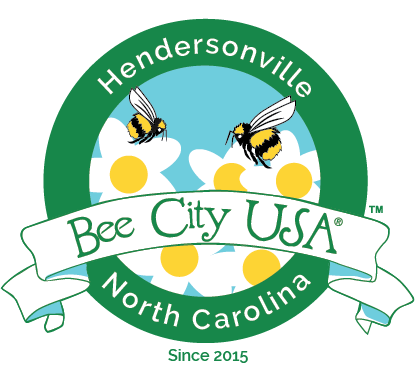 Pollinator Exploration Kit (Available for Loan)
Ongoing
Presented by: Bee City USA – Hendersonville
Calling all educators: teachers, naturalists, gardeners, park rangers, camp counselors, outdoor/environmental educators, home-school parents, childcare professionals, and more! Bee City USA – Hendersonville is eager to help you share the wonder of pollinators with children you teach. Whether exploring your own backyard, schoolyard, or a local park, you'll find many helpful tools in our Pollinator Exploration Kit. The kit includes sets of 12 sturdy child-size insect nets, special bug capture bubbles, bug boxes with magnifying lids, and magnifying glasses. Two pop-up insect habitats and two sets of laminated fold-out field guides (NC Trees & Wildflowers, NC Butterflies & Moths, Bees & Other Pollinators) are also included. As available, the kit is available for loan for up to a week.
Location: Kit may be picked up (reservation required) and returned on weekdays from 9:00 AM - 5:00 PM at the City of Hendersonville Operations Center, 305 Williams Street, Hendersonville
Audience: Educators of all kinds
Cost: Free!
Registration: Please email to check availability and reserve the dates you'd like to borrow the Pollinator Exploration Kit.