Support Services Bureau
The Support Services Bureau includes the Police Records Division, Police Dispatch, police equipment, radios, and the departmental budget and billing.
It also handles the department time and payroll functions as well as many other operational tasks.
The Support Services Bureau is headed by Captain Tracey Cox.
Captain Cox began his career at the Sheriff's Department, starting in 1985 as a dispatcher, and later as a Shift Supervisor.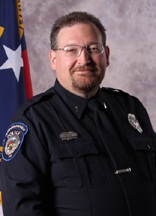 In 1992 he left the Sheriff's Department and served one year as the Communications Director at the Polk County 911 Center, followed by one year as a Computer Specialist for Vision Software in Wilmington, NC.

Cox returned to Hendersonville in 1994 and began working for the Hendersonville Police Department.

Cox also maintains the department's computer systems and patrol car laptop computer systems.
Our Police Dispatch Center handles all police calls within both Hendersonville and Laurel Park and answers both emergency 911 lines as well as general business calls. The Police Dispatch Center dispatches all Police Units and maintains call logs via computer systems.

The Communications Center is manned 24/7. All telephone calls and radio calls are recorded, and logs of all reports, citations, and arrests are maintained here.
The Records Division is responsible for documenting, organizing, filing, scanning and entering into the computer every report submitted by an officer or detective.

These reports cover every aspect of our operation including incident, arrest, and accident reports.

Our records personnel process thousands of documents every year. These reports are later used for investigations and court purposes. Most of the accident reports taken are later copied for the parties involved or for their insurance companies.


Our two main records personnel, Angela Swain and Alexa Putnam, maintain our records in excellent fashion.