Water Treatment Staff Complete Dredging Project at Bradley Creek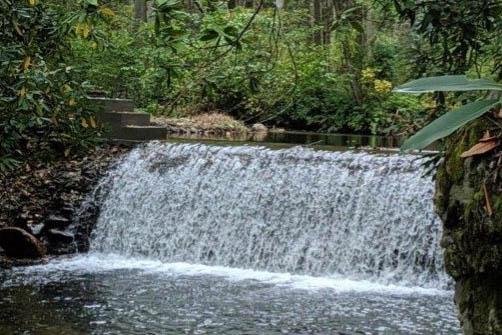 In September, the City of Hendersonville dredged the Bradley Creek Reservoir located deep within Pisgah National Forest. The reservoir, constructed in 1928, is one of the City's three main water sources, drawing approximately 3 million gallons of raw water a day. The goal of the project was to add water storage volume to the reservoir by removing accumulated sediment and debris which were beginning to infringe on the intake structure and starting to affect water treatment operations.
"Rather than contracting the work out, our water treatment staff were given the opportunity to take on this project," said Water Treatment Facilities Manager Ricky Levi. "This work was far above the typical duties of operating a treatment plant, but our team came together to complete the project on time and under budget."
The project consisted of installing a temporary diversion dam to divert creek flow around the reservoir, installing a temporary bridge, dewatering the reservoir, relocating stranded wildlife, excavating and removing 84 dump truck loads of accumulated sediment to an offsite location, repairing a broken bypass valve and restoring the work area. The work ensures proper operation and continued longevity of the water supply source, which has provided high-quality drinking water to the City and surrounding areas since the late 1920s.
"The sediment was all the way to the top of the dam, but after removing all those truckloads, we now we have a larger water storage capacity," said Levi. He explained how his team was able to repair a gate valve and get it back in service. "That was really exciting for us because we got to look at something that no person has likely seen since it was installed."
The team completing the project consisted of Ricky Levi, Keith Kirchner, Gary Norton, Rick Brown, Stephen Bell, George Reedy and Steven Warren. During a presentation on the project made to City Council on November 7, Ricky praised the group for their work and thanked the rest of his staff as well.
"We've got twelve folks that work at the Water Treatment Plant," said Levi. "We treat all the water coming through the plant and we are the call center after hours. We maintain the SCADA (Supervisory Control and Data Acquisition) and we do it all with that amount of people." He explained to council that the project left a great burden on the existing staff, but everyone pitched in and the outcome of the project was even better than expected.
"Our work was praised by the National Forest Service; that's not an easy thing to have happen," said Levi. During his presentation, he thanked the City Council, management and Utilities Director Lee Smith for trusting his team with the project. He also highlighted the work of Utilities Engineer Adam Steurer for his work on the project. "We have people in charge that care about our infrastructure."
---
Project Photos


Early photo of Bradley vs. Today


The diversion of the river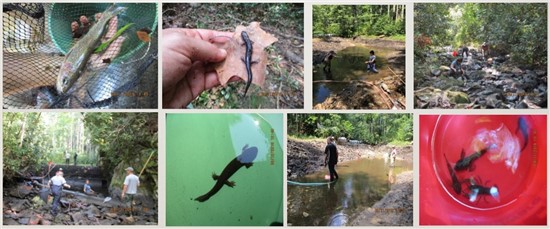 Wildlife rescue


The actual dredging process


Release valve repair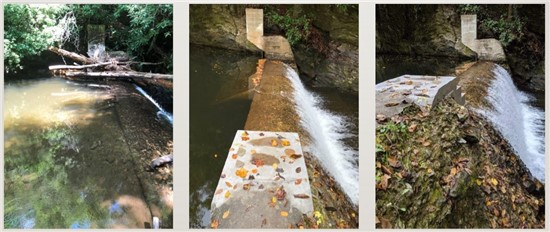 Before and after