Bee City
Hendersonville: the 7th Bee City USA in the Nation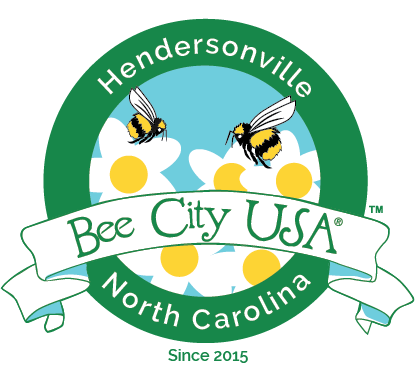 On May 11, 2015, Hendersonville became a Bee City USA, the seventh municipality in the country to be so designated. The effort was approved by a unanimous vote of Hendersonville City Council earlier in May. A number of organizations and individuals helped accomplish this goal, and the application process was steered by Mac Brackett, chair of the Tree Board, and Kim Bailey, a member of the Environmental Sustainability Board. The Tree Board is the designated facilitating board for the new project.
Bee City USA is a nonprofit national organization which encourages city leaders to celebrate and raise awareness of the contribution bees and other pollinators make to our world by endorsing a set of commitments, defined in a resolution, for creating sustainable habitats for pollinators.
Mayor Barbara Volk said, "Hendersonville's City Council let it be known that we understand the importance of pollinators, and therefore want to make the town more pollinator-friendly. We are grateful to our Tree Board and the Environmental Sustainability Board for bringing the opportunity to our attention."
"Of the cities that have applied to date, your process was the most intentional and inclusive," said Phyllis Stiles, founder and executive director of Bee City USA, headquartered in Asheville. "You are truly a model for other cities to follow."
Cross-Pollinator Meeting Includes Community Organizations To Plan for Bee City Projects: During the process of application for the Bee City USA designation, a number of local organizations were brought into the discussions. These and other groups met to plan for future pollinator-friendly projects and policies. Henderson County Cooperative Extension, Henderson County Beekeepers Association, Henderson County Environmental Programs Department, Mountain Horticultural Crops Research Station, Bullington Gardens, Carolina Mountain Land Conservancy, and many others were involved. Henderson County Board of Commissioners approved a Letter of Support to accompany the application and resolution.
Kim Bailey, who was instrumental in completing the Bee City USA application, said, "Hendersonville is an ideal candidate for certification because there are already 11 habitats certified as Monarch Waystations at home gardens, schools, businesses, nonprofit organizations, faith-based organizations and on public lands across the county. In addition, Carolina Mountain Land Conservancy and other organizations have invested substantial time and resources planting native flowering species and eradicating non-native invasive species that crowd out our native nectar sources."
A designated Bee City USA is expected to annually celebrate being a Bee City USA community with a proclamation and public awareness activities; publicly acknowledge commitment to the program through signage and web links; and annually report activities to Bee City USA to renew the designation.